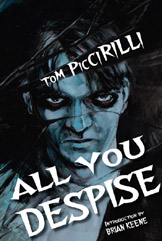 Family ties can bind exceedingly tight. Sometimes, they bind you to someone that's only going to drag you down. Just ask the narrator of ALL YOU DESPISE, Tom Piccirilli's new novella from Shroud Publishing.
Danny shows up at his older brother's place one night, incoherently drunk. While this is not an unusual state, the condition of Danny's Mustang — a family heirloom that has traveled a circuitous route from their father to the older brother (our narrator) and finally to Danny – is most unusual. For one thing, there's the enormous dent in the hood. For another, there's the blood dripping from the grill. Danny's brother takes it all in and begins doing what he always does: cleaning up his brother's mess. Doing so comes naturally; after all, "Take care of your brother" was one of the last things their father said to him.
Piccirilli brings a world of familial strife to vivid life here. Danny has everything his older brother ever wanted: a good job, a doting son and a loving (and very forgiving) wife. Our narrator's wife died before the couple could have children, leaving him to fantasize about being part of Danny's family, about moving into their home where he "could be one of those kind, wise uncles who did all the cooking and took care of the kids." Instead, he's forced to listen to Danny's constant, drunken rants about how oppressive his life has become, and how good his older brother really has it.
Overshadowing both brothers is the specter of their father, an abusive man whose pitiful life and agonizing death continues to shape them, right down to the narrator's harrowing final act. It is, he believes, his one shot to take care of his brother and finally have the life he's longed for. It's as misguided as it is horrific, but at that point, there seems to be no other way to change the course they are on.
Very few authors working today put pain on the page with the skill that Piccirilli does. From the narrator to Danny to the innocent people that become embroiled in their bitter lives, Piccirilli packs DESPISE with a living, breathing cast that comes alive and embeds itself in your brain in a scant 78 pages. Shroud is only publishing 500 copies of this devastating novella, so do yourself a favor and snap one up. —Blu Gilliand
OTHER BOOKGASM REVIEWS OF THIS AUTHOR:
• THE COLD SPOT by Tom Piccirilli
• THE FEVER KILL by Tom Piccirilli
• FIVE STROKES TO MIDNIGHT by Tom Piccirilli, Gary A. Braunbeck, Deborah LeBlanc, Hank Schwaeble and Christopher Golden
• FOUR DARK NIGHTS by Bentley Little, Douglas Clegg, Christopher Golden and Tom Piccirilli
• HELLBOY: EMERALD HELL by Tom Piccirilli
• THE MIDNIGHT ROAD by Tom Piccirilli