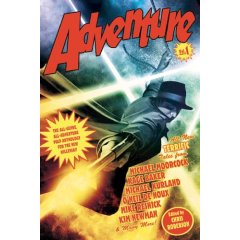 Not all of us were fortunate enough to exist when pulp fiction lived and breathed (smelling of cigs and whiskey, no doubt), a heyday where numerous monthly magazines offered nothing but fictional escapes and acts of derring-do for some time and a dime. Luckily, pulp has never been forgotten, and one could argue a new wave of it is starting to form with the success of the Hard Case Crime series and projects like the new original anthology ADVENTURE: VOL. 1, which works as both a tribute to yesteryear and a snapshot of tomorrow.
It opens with Mike Resnick's "The Island of Annoyed Souls," a funny DR. MOREAU parody featuring the author's Lucifer Jones character. Even though it provokes laughs, it doesn't forget to include the adventure, and also puts one in the right frame of mind for "Ghulistan Bust-Out" by Chris Nakashima-Brown, in which a producer scouts locations for a CONAN-esque TV series in war-torn Afghanistan. Kim Newman's amusing "Richard Riddle, Boy Detective" offers similar mixed-genre thrills with its unlikely combo of Encyclopedia Brown meets H.P. Lovecraft.
Since ADVENTURE VOL. 1 is the first of a promised annual series, it makes sense that at least one contribution be serialized; that honor goes to Lou Anders' "The Mad Lands – Part 1: Death Wish," a weird Western that reminded me of the early volumes of Stephen King's DARK TOWER series. Editor Chris Roberson himself contributes "Prowl Unceasing," a yarn in which a young Van Helsing encounters a most unusual species of tigers in the jungle; true to the structure of Bram Stoker's DRACULA, it's presented in the form of journal entries. None of the previous stories of Kage Baker I've read have ever clicked with me, but her "The Unfortunate Gytt" did the trick, being a fun, Victorian-era tale of treasure hunters in the crypt of an abandoned chapel, complete with knights.
But not everyone can accurately capture such spirit. John Meaney's sci-fi-oriented "Lost Time" is too fragmented to form a cohesive tale, and I fail to see the adventure in having a dead girl eat eel pie, as Paul Di Filippo has his protagonist of "Eel Pie Stall" do. I also found Neal Asher's writing in "Acephalous Dreams" impenetrable. Overall, ADVENTURE works more often than not, and the pieces that work do so very well.
Of all the 17 stories, Michael Moorcock's WWI airborne adventure "Dogfight Donovan's Day Off" is the one most likely to be mistaken for an authentic pulp tale. But the award for my favorite is by far Michael Kurland's "Four Hundred Slaves," a Sherlock Holmes-ian adventure, but set in ancient Rome. His protagonist, Marcus Fabius Quintilianus, probes a murder that may result in the deaths of 400 more people. Now that's what we call upping the stakes.
Like ALL-STAR ZEPPELIN ADVENTURE STORIES before it, this premiere edition of ADVENTURE celebrates the pulp spirit with one foot in the past and one in the future, but with a wider scope that entails everything from dinosaur planets to emotionally tormented superheroes. Published by MonkeyBrain Books, it's a stark reminder that independent publishers shouldn't be ignored, as they're often responsible for the most interesting projects, such as this.