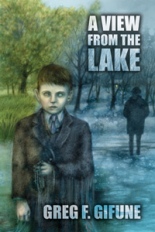 In Greg F. Gifune's A VIEW FROM THE LAKE, Katherine and her husband, James, own a small summer vacation resort comprised of a main house and small rental cabins around a quiet Massachusetts lake. It's an idyllic existence until one morning, a small, Japanese boy wanders out of his parents' rented cabin and drowns in the lake. James finds the boy's body and takes the death unnaturally hard. From there, he starts to slowly lose his grip on sanity.
         
Katherine attempts to console her husband and urges him to get therapy, but James slips further and further away … until one day, he disappears completely. The lake is dragged, but James's body isn't found, although he is believed to be dead.
From that point on, Katherine's life spirals downward. Business suffers, because who wants to vacation at a lake where a child drowned and a poet has gone missing? She decides to sell. She just needs to get through one more winter first …
Of course, weird things happen, because this is published by Bad Moon Books, purveyors of fiction featuring weird things. Weird things such as Katherine hearing James' voice and seeing apparitions of small children. She enlists the aid of her alcoholic college friend, Carlo, who is (conveniently) still in love with her. Together, they discover that James may have had a sketchy past, and someone or something is trying to draw them into the lake.
This is a slim book ­­­— barely 190 pages — but overall, a well-written one, with some creepy scenes that reminded me of THE SHINING. The author knows how to set a scene and draw the reader in, and the 190 pages fly by, which is not meant to be a criticism at all.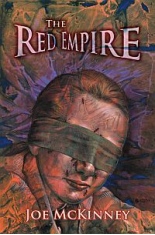 Also from Bad Moon Books is THE RED EMPIRE by Joe McKinney, an author who is apparently attempting to have books come out from as many different publishers as he can. Pinnacle recently released his zombie/natural-disaster novel FLESH EATERS, while Gutter Books put out the crime-oriented DODGING BULLETS. Here, McKinney turns his writing talent to weird sci-fi that sounds like a modern-day take on a cheesy 1950s movie.
"The Red Empire" is actually a species of engineered super-intelligent, very adaptive, inch-long fire ants, created by the military as a weapon of mass destruction. Their purpose is to be released into the Middle East to eliminate the civilian population, and therefore, the insurgents who are killing U.S. soldiers. Unfortunately, the truck transporting them across Texas is washed away in a hurricane-strength storm, and the ants are off to ruin every picnic they find. Just kidding — they're going to kill everything that crosses their path.
Amy Bloom and her daughter, 14-year-old Casey, return home from a San Antonio hospital where Casey was the recipient of a cornea transplant. Due to the storm and washed-out roads, they barely make it, but when they do, they find an escaped — and armed — federal prisoner named Ricky Fallon hiding out in their home. Ricky just wants to head to Mexico, but he won't pass up the opportunity to take hostages.
Meanwhile, Dr. Preston Baum was widowed a few weeks before when his wife died in a car accident. He hears about Casey's cornea transplant and is desperate to find out if she has his dead wife's eyes. Baum may be the only hope the Blooms have of being saved from the psychopath in their midst, and the army of killer ants advancing on their home.
As I said, the whole thing sounds super-cheesy, but it all works. At 151 pages, this book is even slimmer than the other, and the story itself covers only a matter of hours, but it doesn't feel incomplete or rushed. McKinney even manages to tell it from multiple perspectives, which is a nice touch. There's enough action mixed with character development that no reader should feel shortchanged.
Although with his list of credits, I do wonder what McKinney has coming out next. Chemistry textbook? Harlequin romance? —Slade Grayson