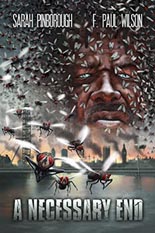 It's the end of the world as we know it and I'll blame the flies. A NECESSARY END, a slim novel from co-writers Sarah Pinborough and F. Paul Wilson, brings us a new kind of apocalypse.
When is a plague not a plague? When it's not actually a disease, but a reaction to some deadly African flies that have gone global. We follow investigative reporter Nigel as he comes home from digging into this deadly epidemic. Once he arrives, he has to deal with his wife, who believes that it's the reckoning and she is ready for her destiny.
So as the world crumbles, Nigel is still on the case, tracking down a missing a young African immigrant whose parents have both perished from the flies. He thinks of this as a way to pay back a grave error that he made: not taking his thumb drive with him when he first went back to his job. See, the drive had all of Nigel's research which all pointed to a doctor who might be the reason behind these flies, since it seems the insects in question have mutated because of experiments done in Africa.
While Nigel searches for the missing boy, he makes a discovery that while most people bitten are dying off, some are actually surviving the experience and getting better. This takes Nigel on a search for what might be the cure. While doing this, he goes on a trip for the truth and self-discovery.
Wilson and Pinborough know how to weave a story of a civilization completely breaking down. From the start, when Nigel comes back to the UK, to the reports from the BBC and governments, we witness the global effect of this outbreak of sorts. Certain points of the story might be a little obvious to some, but the reader will keep turning the pages as the story progresses.
A NECESSARY END is a book that will easily hook new readers into both of these authors' other works. There are definitely a few shades of Wilson's NIGHTWORLD floating around this story — nothing that directly connects the two, but the terror and the panic are the style Wilson's readers will recognize.
My one issue with it is that once we find out the secret behind the flies, all that went through my head from that point on was Peter Falk talking about his time in the country. —Bruce Grossman