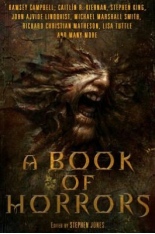 Finally available in paperback in the U.S., editor Stephen Jones' A BOOK OF HORRORS, a collection of new stories first published last year in Great Britain, throws down the gauntlet against the alarming trend Jones sees happening to his beloved fiction genre.
As he notes in his introduction, "These days bloodsuckers are more likely to show their romantic nature, werewolves work for covert government organizations, phantoms are private investigators, and the walking dead can be found sipping tea amongst the polite society of a Jane Austin novel." Later he declares, "The time has come to reclaim the horror genre for those who understand and appreciate the worth and impact of a scary story."
Having edited and authored more than 100 books of horror and fantasy, and winning damned near every award in the category, few individuals know better than Jones what makes a scary story.
You may have already read Stephen King's "Little Green God of Agony" in one of the year-end horror anthologies where it was reprinted. But it was first published here, and the story of a wealthy plane crash survivor who hires an odd country preacher to "expel" the frightening cause of his pain is well worth another read. If you somehow missed it, you're in for a good old-fashioned shock.
 
Others collected here, by an equally impressive list of contributors, also demonstrate the various ways horror tales keep us up at night. In "Getting It Wrong," Ramsey Campbell adds a dry sense of humor to his story of a longtime movie fan who is unexpectedly called to be the "outside friend" of a co-worker on a radio quiz show, and learns the frightening consequences of his incorrect answers.
Caitlin R. Kiernan brings a lush, lyrical quality to "Charcloth, Firesteel and Flint," the story of a young man driving along a highway in Iowa who stops to pick up a woman standing along the road. As they spend the night together in a motel room, the young man learns why the woman is so obsessed with fire, and the ironic, unexpected effect she will have on his future.
 
Swedish horror author John Ajvide Lindqvist contributes his first story written specifically for English-language readers, "The Music of Bengt Karlson, Murder," a subtle slow-mounting tale of how the discordant sounds of a child learning to play the piano summons the restless ghost of a child murderer. Richard Christian Matheson ends the collection with "Last Words," a brief but chilling reminder of the importance of the last things said before dying in a story of man who collects them.
 
The remaining stories among the 14 here are by such notables as Lisa Tuttle, Peter Crowther, Brian Hodge, Michael Marshall Smith and others. Author biographies and a brief note about their contributions are included on a page immediately following each story.
 
Many devoted horror fans will be drawn to this book for no other reason than seeing Jones' name connected to another anthology of horror. That's certainly reason enough!
 
They and the rest of us can take heart that Jones will continue his vigilant battle against what he calls "horror-lite" with such superior collections as A BOOK OF HORRORS. Enlist your support and get a copy. —Alan Cranis