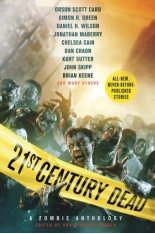 Remember when the most popular worst-case fictional scenario was the nuclear winter — those bleak days after the bombs fell? Not any more. These days it's the zombie apocalypse — those bleak days after whatever outbreak turned most of humanity into flesh-eating living dead.
So why are zombies currently all the rage? Christopher Golden, editor of 21ST CENTURY DEAD, his second anthology of new undead tales, suggests in his introduction that it's not so much due to the popularity of THE WALKING DEAD franchise, but more because we very much need something to channel our contemporary fears. And zombies, unlike vampires and werewolves these days, still retain their ability to scare us. In other words, zombies don't shimmer.
Still think all there is to zombie stories is a group of uninfected survivors battling off hordes of hungry, rotting corpses? Golden's collection puts that thought to rest with the help of an impressive and unexpected array of authors, many of whom have never before tried their hand at the subgenre.
 
Take, for example, "The Dead of Dromore," where Ken Bruen brings his unique noir styling to a tale of a mercenary team hired to rescue a young girl from an infected tourist village. Along with Bruen's unmistakable voice and verse-style structure, the story includes an absolutely priceless opening line. Duane Swierczynski, an author known for his high-octane and imaginative crime novels, teams up with Stephanie Crawford in "Tender as Teeth," an intriguing take on a woman who actually survives a zombie infection, only to suffer the consequences of her actions before the cure.
 
On the other hand, Jonathan Maberry, author of such zombie novels as PATIENT ZERO, DEAD OF NIGHT and the upcoming FLESH & BONE, has more than sufficiently proven he knows a thing or two about the revenant. Yet even he takes a different approach with his contribution, "Jack and Jill," in which a pre-teen suffering with cancer is convinced he is one of the living dead until a strange virus, along with the approach of a fierce thunderstorm, threatens his sister and causes him to rethink his life priorities.
 
Other notable inclusions from the zombie neophytes include Chelsea Cain's brief, but creepy "Why Mothers Let Their Babies Watch Television," a modern-day fable of a mother and her baby whose colicky behavior extends beyond death, and science-fiction veteran Orson Scott Card's "Carousel," about a family readjusting to life with their mother, who has been "resurrected" after a fatal accident.
Others among the 19 authors are ROBOPOCALYPSE's Daniel H. Wilson, THE CAGE's Brian Keene and Kurt Sutter, creator of TV's SONS OF ANARCHY.
21ST CENTURY DEAD is highly recommended, not only to long-time zombie buffs, but also those readers convinced that there's precious little depth to the concept of the reanimated dead. Golden and his group of authors prove that zombies not only have the ability to scare us, but sometimes actually make us stop and think. —Alan Cranis