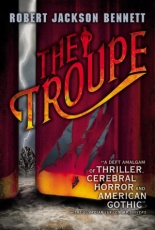 Robert Jackson Bennett is one of those authors who delivers something different each time out. His fiction leans toward the fantasy genre with a horror twist to it, but other than that, his stories are distinct. Consider:
         
His 2010 novel, MR. SHIVERS, is about a revenge-seeking man chasing down a murderous supernatural force through the hobo camps and abandoned American towns of the Great Depression. Last year's THE COMPANY MAN, a novel I liked, is set in a dieselpunk version of America circa 1919, and follows the efforts of a man to uncover the truth behind a corporation that rules the industrial world.
Really, if there is a common thread to Bennett's works, besides the fantasy aspect and the fact that he seems to favor setting his books in the early part of the 20th century, is that his protagonists are on a quest for truth — the truth behind the dark forces that seemingly affect the world. The same holds true for THE TROUPE.
         
Sixteen-year-old George Carole is a musical prodigy. His pianist skills could take him to the top if he wanted, but he's more interested in finding a little known vaudeville troupe that is talked about in dream-like remembrances by those lucky enough to have seen the show. George isn't interested in joining the troupe, as much as he wants to meet the master of ceremonies, Heironomo Silenus, who he believes is his father.
George gets his wish, in a matter of course, and meets an eclectic group: There's Franny, the strange, automaton-like woman who can bend steel in her bare hands; Colette, the exotic beauty who enchants her audience with her dancing and singing; Kingsley, the puppeteer who performs a comedy act in which his puppets seem to move and speak with no assistance; and Silenus himself, who performs a monologue that hints at a deeper meaning to the purpose behind the troupe.
As George discovers, the troupe is more than it seems, and its function is to hold off a malicious darkness that threatens to engulf the world. The darkness, far from being a malignant, unintelligent force, has taken on physical forms and is hunting the troupe. And now the darkness is hunting George, too.
         
Bennett deftly weaves together several subplots and characters' backstories into an overarching story that, in lesser hands, might have collapsed upon itself. But the author knows how to spin a tale full of flashes of magic and glimpses of horror, and doles out just enough clues and tidbits to keep the reader turning the pages.
         
And while George, our main focal point of the story, can come off as a bit of a spoiled, narcissistic douche (at times), he is a sympathetic character in light of the enemy: the darkness with teeth.
THE TROUPE has a feel to it that reminded me of JONATHAN STRANGE & MR. NORRELL and AMERICAN GODS — two books I loved. Although I'm not enamored of it enough to place THE TROUPE in as high regard, it doesn't fall far short of them, either. But, like the authors of those two novels, I look forward to seeing what Bennett comes up with next. —Slade Grayson