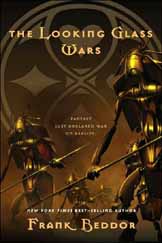 In the new-in-paperback THE LOOKING GLASS WARS, Frank Beddon has created a genius concept, resulting in one of the more imaginative fantasies in recent memory. A modern-day, action-packed version of Lewis Carroll's ALICE IN WONDERLAND, Beddon's conceit is that the fiction was anything but, and the truth was much deadlier and of higher stakes.
His Alice is Alyss Heart, an 8-year-old princess whose good-queen mother rules Wonderland. The girl has the ability to will things to happen – a power she uses for wholly innocent mischief – and all is well in life until her evil, power-hungry Aunt Redd makes a bloody bid for the throne … and gets it.
Now suddenly an orphan, Alyss is sprinted off to safety via jumping into the Pool of Tears, which allows her to escape into our world via puddles. Her guide is Hatter Madigan, the royal bodyguard whose hat is equipped with enough spinning blades that you're reminded of those old kung-fu films with the flying guillotine.
One of the baddies they're running from is The Cat, an anthropomorphous feline assassin who keeps getting killed, but experiences instant regeneration, as he has nine lives. Other memorable Carroll characters find themselves updated as well, including the Caterpillar and the Jabberwock. But the coolest may be Redd's soldiers: playing cards that unfold TRANSFORMERS-style into robotic warriors who shoot razor-sharp cards from their AD52 weapons.
Alyss' powers quickly diminish in the "real" world, where she tells her story to Carroll. In a bit of self-referential invention, the subsequent publication of his novel enables Hatter to find Alyss and save her, ultimately returning her to Wonderland to defeat Redd.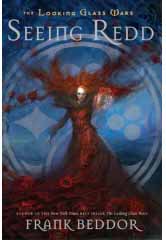 That she does should come as no surprise. That it's not entirely permanent shouldn't, either, given the new hardcover sequel SEEING REDD. To dance around its plot points so as not to spoil either book outright, it finds Alyss' restored order to Wonderland short-lived, as Redd, The Cat and company find a magical way to return and further raise hell, partly with an eye toward genocide.
WARS spends so much time establishing these great, fun characters that REDD's waste-no-time jump into the proceedings renders it not as strong of a novel. If it's possible, it has more action than its predecessor, yet less story. However, Beddor's world retains its seductive lure.
Although not dumbed-down for young eyes, both novels are filed as "young adult" fiction, but honestly, I think both will be enjoyed by kids and grown-ups equally. The latter even may appreciate it more.
As a film producer, Beddor clearly thinks cinematically – witness the wonderful illustrations that appear in WARS, like something out of a presentation – and wants these books to see screen adaptations. It's evident in every scene, and what enchanting movies they would make. Until that day, immerse yourself down this rabbit hole. "Read Me," these books say. –Rod Lott