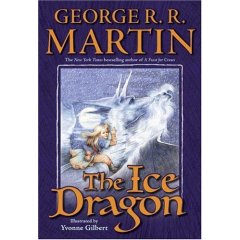 Children's books these days aren't quite the same as when I was growing up. You're more likely to run across MAGGIE'S FIRST DATE RAPE or BOBBY'S ENCOUNTER WITH AL-QAEDA than you are titles like THE POKY LITTLE PUPPY. That's why George R.R. Martin's THE ICE DRAGON is so refreshing.
This is a traditionally styled tale featuring fantastical dragons and children who have angst because they are different from those around them – a staple of most children's fiction. Though the blurb notes the book is geared for children ages 10 and up, it should also play well with the younger crowd, as well as appeal to both boys and girls. Martin does not write down to his readers and includes some nicely difficult words (such as "translucent" and "rime"), which I think is a better tactic than deliberately trimming the vocabulary. The only caveat is that the book is a bit unsettling and isn't a happy romp through fun candy land.
Adara is a young girl who lives with her father, elder brother and sister on a farm in an unnamed land. While the family seems fairly normal, Adara is distant. She identifies with the cold and icy winter, while all around her are summer people. Adara is literally cold to the touch. Her love of the winter season and its weather allows her to play with the delicate ice lizards, which burn if a warm-blooded person touches them, and it also allows her to befriend an unusual ice dragon.
While dragons are fairly commonplace in this world, and even are used as mounts for warriors, ice dragons supposedly have never been tamed and thus, can't be ridden. But Adara manages to do just this, and she finds keeping company with her new reptilian friend to be the haven she has longed for. She hates for the winter to end because the dragon flies to the north and Adara must stay behind. But she patiently waits for the cold weather to return every year, and to bring with it the ice dragon.
This parable of companionship, emotional distance and empathy gets twisted around a little in the book's short 100+ pages. It's a strong story, well told, with layers of meaning that can be explored with a young reader who may have some questions at the end. Overall, the illustrations by Yvonne Gilbert are serviceable, though they have too light a line in my advance reading copy, and it's a shame that chapter headings are the same throughout.
This is Martin's first children's book, even though it was written in 1980 and published as part of the book DRAGONS OF LIGHT. Martin is a phenomenally popular fantasy writer and one can see why from this work – he also should be a popular children's author and one hopes to see more along these lines. This title is certainly recommended for your tykes. –Mark Rose