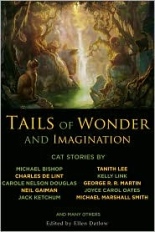 TAILS OF WONDER AND IMAGINATION is a selection of science-fiction, fantasy and horror stories relating to a somewhat unexpected theme: cats. Edited by Ellen Datlow, it is another collection in a wave recently published by Night Shade books, falling in among THE LIVING DEAD and BY BLOOD WE LIVE.
While I would never consider myself much of a "cat person," at least not in so far as I would be keen to read an anthology on them, I was intrigued by this book in large part because of the participating writers: Datlow's varied selection includes works by well-known authors such as George R.R. Martin, Neil Gaiman, Stephen King, Joyce Carol Oates and Lewis Carroll, as well as dozens of other writers.
With 40 stories, this 464-page collection is a tribute to the enduring power and mystery of the feline, be it house cat, kitten, manticore, sphinx, puma, jaguar, sabre-tooths or fantastical creatures. Because of the broad scope of catlike critters included, TAILS promises to have something to appeal to everyone, whether a "cat person" or not.
The selection of stories presented is strong, with enough variety of genre, subject, time period and writing style (not to mention feline featured) to keep the bulky book from becoming too one-dimensional. As can be expected from any anthology from such a large number of authors, the tales can be a bit inconsistent, with some markedly more interesting and well-written than others. Some of the stories are surprisingly disturbing — such as the one that involved a company that experimented with throwing cats from one employee to the next until each cat died — while others are touching tributes to the graceful creatures that have come to inhabit numerous homes, not to mention myths and works of fiction.
Unlike some anthologies, Datlow has gone to great lengths to include a short bio of each contributor before his or her piece, as well as a bit of information about the original idea behind them. This provides some context for many of these seemingly off-kilter tales. Reading this info before each story made the entire book a bit of a halting read, but it was worth it for some background to the experience or mind-set of each writer.
Overall, TAILS OF WONDER AND IMAGINATION is a clever collection of cat stories, focused enough to appeal to the cat lover, but broad enough to be of interest to any science-fiction, fantasy or horror readers. I might not recommended reading the whole thing in one sitting — it can feel uneven and a bit overwhelming — but the contents are worth dipping into here and there. As an aside, it would also make a great gift for any genre-loving cat person. —Kerry Serini
OTHER BOOKGASM REVIEWS OF ELLEN DATLOW:
• THE DEL REY BOOK OF SCIENCE FICTION AND FANTASY: SIXTEEN ORIGINAL WORKS BY SPECULATIVE FICTION'S FINEST VOICES edited by Ellen Datlow
• INFERNO: NEW TALES OF TERROR AND THE SUPERNATURAL edited by Ellen Datlow