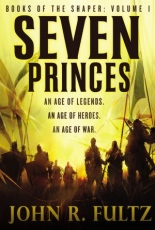 It is a major accomplishment to be a debut novelist and to have an epic fantasy series accepted and promoted by a frontline publisher. So kudos to John R. Fultz and his SEVEN PRINCES, the first in "The Books of The Shaper" series, to be followed by SEVEN KINGS in January 2013.
Fultz tells the tale of a set of kingdoms besieged by the evil and supernatural forces of the sorcerers Elhathym and Ianthe. Elhathym has managed to take over the Kingdom of Yaskatha and forced its young Prince D'zan into hiding. D'zan visits the other kingdoms to warn them that war approaches and that they must ally to overthrow the two evil leaders.
Along the journey, we are introduced to the various princes that hold sway in their kingdoms, and we hear their stories as well. Reminiscent of Kevin J. Anderson's epic "Terra Incognita" series, Fultz alternates chapters between the stories of the many different characters who eventually merge into a fighting force able to take on the sorcerers.
His character studies are excellent and his world-building capability also seems strong. It's especially interesting to read of the land of Udurum, a jovial place where humans and giants who are three times the humans' size coexist peaceably. But what's troubling is Fultz's flat descriptive style.
He spends far too much time on lengthy descriptions of terrain or domestic appointments using dull, trite language. I want to see fewer lines like "The colossal forest was an amazing sight," which is simply empty. With that caveat, I commend Fultz's willingness to kill off major characters and the attention he pays in general to the major characters.
This isn't brilliant, but it's an acceptable first effort on this scale (he is an accomplished short-story writer) and the series may grow. —Mark Rose