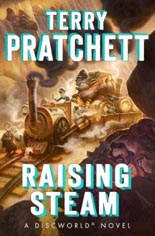 Technology is coming to Discworld, whether the inhabits like it or not. Said improvement should be a dead giveaway from the title and cover art of RAISING STEAM. The latest from the prolific Terry Pratchett is another entry in the Discworld series for the charming and charmer Moist von Lipwig, the man responsible for giving this world the post office in GOING POSTAL and a uniform currency in MAKING MONEY.
That's not to say Moist has a hand in developing the steam engine, but he is present to help out in other ways. The engine is the brainchild of a young man named Dick Simnel, who is a lot more savvy then he lets on.
Inventing runs in Simnel's family. His father first attempted the idea of using steam, but those results did not work out too well … since it burnt him to a crisp. But young David is determined to conquer this idea. And conquer he does, once he figures out how to harness and use steam.
He is more than determined for its use to help Discworld, and he figures the best way to do that is head to the big city of Ankh-Morpork. Simnel, not exactly business-minded, teams up with a man who is more than willing to invest in this idea, especially when the man sees dollar signs galore.
How Moist enters the picture is exactly like his other two adventures: by the order of Lord Havelock Vetinari, a man not to disobey, cross or even disagree with. Vetinari is not thrilled by this new technology, but he does see its promise, so the book follows Moist as he becomes part of this new venture, using his charm to the best of his abilities.
Various characters from Discworld pop in here and there. The City Watch plays central parts to some of the story, while the Wizards make a brief appearance. Moist's wife, who was central to the other books, is barely even seen.
The problem with RAISING STEAM is that there really is no antagonist for Moist to play against. The story moves like a train chugging along, but that's it. There are a few moments where the baddies of the book turn up; this time, it's a group of dwarves who wish it was like the old days where they could keep to themselves and not bother with others.
But those moments are brief. The bulk of the book is reading about Simnel improving his engine, and Moist making sure everything is working and getting the railroad built as fast as possible for Vetinari. Yep, a plot about the dwarf king riding the train.
I went into this book hoping for some great laughs, but there are hardly any. It's enjoyable enough, but it seems that Pratchett's sadly failing health is slowly affecting his writing talent. —Bruce Grossman