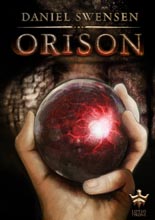 Daniel Swensen's debut novel, ORISON, is not your typical fantasy novel. Or rather, it is … sometimes. Or perhaps Swensen does typical things in atypical ways. Let me explain.
There's an orphan with a destiny. Her friend is a mysterious wizard living in obscurity. Enter the stalwart warrior with a keen blade and a keener sense of honor. A queen rules over all of them, her heart troubled for her people. She has a deadly bodyguard, unswerving in his loyalty. A pantheon of weird and terrible gods pull them in multiple directions. Intrigue is rife between fictional empires and war threatens to tear the world apart. Also, thar be dragons.
But then you discover that Story, the orphan, is proactive and trying to forge her own destiny. Not, you know, getting bossed around and waiting for swords to appear or whatnot. And our mysterious wizard cannot do magic and is a drunken hobo happy to live in obscurity. The stalwart warrior is kind of an impassive weirdo no matter how honorable he acts.
As for the queen, she's actually so above all the hurly-burly as to be nearly useless. Her bodyguard is incredibly nuanced and conflicted despite his unswerving loyalty. The intrigue is actually of nigh biblical proportions. Oh, and the weird gods? They are the dragons. And they are some right bastards, too.
Swensen does drop the eleventy billion names of taverns, flophouses, neighborhoods, cities, empires, kingdoms and pantheons that seem a necessity in every fantasy novel. But he does so in a breezy manner that makes taking it all in enjoyable. Especially since most of the information comes at you while the characters are running, fighting, bargaining or gambling for their very lives.
What I'm trying to say is Swensen does a fantastic job of giving the usual fantasy fan a sprawling world while making his characters absolutely engaging and keeping the plot rolling forward like one of those big, cartoon snowballs. I couldn't get out of the way, nor did I want to. And while I couldn't pass a geography class on this fictional setting after one reading, I certainly grasped the scope and general shape of the world.
I do have one caveat for those who don't usually get swept up in fantasy novels: ORISON is a totally satisfying piece of fiction in its own right — seriously, it has a beginning, a middle and an ending; other fantasy authors could take note — but it is also obviously the first in a series that goes on to … ??? Now, it hooked me enough to read the rest, but it's worth pointing out that if you're in for this penny, you're going to be in for a pound. Or several hundred pounds. Paper is heavy, you guys.
I recommend ORISON highly. It's an adventure story, not a travelogue. It has interesting twists on old character types. It has an honest to goodness female protagonist who is both proactive and capable (without being superhuman … mostly). It has deities that are alien and frightening. I legitimately cannot wait for the next in the series. Give a new author with a fresh voice a try and read ORISON. —Joshua Unruh