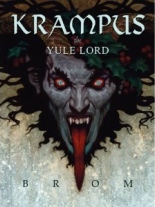 A young man with no faith in himself or his art, estranged from his wife and child, and who gets by doing small errands for the mob, finds Santa's magical toy sack. And now Jesse Walker might just learn a little something about Christmas. (end movie trailer voice)
KRAMPUS: THE YULE LORD starts like a skewed version of a feel-good holiday movie. Sure, there's a horned and long-tongued Krampus planning to kill Santa Claus, as well as a meaty subplot about the drug trade, but one gets the feeling that the novel will do one of two things: Be irritatingly negative for no particular reason, or still manage to end on a "Merry Christmas!" note as Santa Claus wins the day, a paragon of goodness and cheer.
But KRAMPUS does neither, and is a better book for it. The illustrated novel manages to deliver that satisfying emotional payoff that comes from watching a rundown character get their life together in a Christmas movie, without going the simple route of letting everything be straightened out by something as simple or nebulous as "Christmas spirit."
This lack of Christmas spirit is fine with me. I've never really been big on the whole idea. It probably has something to do with being Jewish.
KRAMPUS, written and illustrated by the single named Brom, is a story with two main conflicts: the earthbound disputes between Jesse and many of the people around him in his small West Virginia town, and the ancient, semi-divine battle between Krampus and Santa Claus. What really makes the book work, strangely enough, is that it's the latter conflict that's less morally clear. The human villains are extremely evil murderers, sadists, and big-time drug-dealers (which is not to say that they are one-dimensional), while neither Krampus nor Santa is clearly good or evil.
Oh, and before I forget, capital-G God also gets involved. There is a literal and direct deus ex machina that justifies itself in an interesting way I really shouldn't divulge. But God here is reminiscent of the God from THE SIMPSONS: capricious, inscrutable, kind of a jerk.
The human conflict, with its more clearly delineated villains, is based in and around the fictitious town of Goodhope. At first I rather felt like I had been tricked into reading a small-town, human-level story of backwoods crime where I had expected to find an insane dark fantasy, but Goodhope can grow on you quickly. There are a few moments where the chapters dealing with normal humans drag, or get a tad preachy, but generally, everything hums along wonderfully, creating a clear contrast between everyday people and mythological intrusions.
Generally speaking, these ground-level and godly strains of the story intersect at just the right points, which is good because it's actually Krampus himself who stands out as the work's most interesting and well-rounded character. Far from the demon our traditions have grafted onto his legend, but neither a misunderstood saint, Brom's version of Krampus is a deeply melancholy and complicated being.
He is shown as, for better or for worse, a product of the manias and necessities of the Middle Ages; a great and terrible presence that was exactly what people needed when they would huddle inside in the winter, endangered by the outside world. He's a proud and sad figure who genuinely does want to make people happy, but he's lost touch with humanity.
Oh, also his first step toward making people happy is to try cutting open, and then supplanting, Santa Claus.
KRAMPUS is a fast-moving and enjoyable book, one that lures you in with the freaky cover portrait of its titular character and promises of blood and old-school religion. But along with that, KRAMPUS brings a surprising sensitivity and a commendable refusal to pick sides. What comes through so clearly is that Brom really thought out the implications of his two vastly different (but not that different) solstice figures, rather than assigning them to good and evil. And that he had a lot of fun crafting lore and thinking up extreme and gory violence along the way. —Elijah Kinch Spector