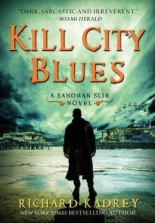 KILL CITY BLUES is book number five in the Sandman Slim series, and much like the other books, author Richard Kadrey brings the reader up to speed very quickly on past events in case you missed a past installment.
Essentially: James Stark, the protagonist of the series, is part Sam Spade and part Conan the Barbarian, with a dash of Dr. Strange thrown in. Stark was banished to Hell, once upon a time, and escaped 11 years later to get revenge on the people who sent him there.
Now armed with some Hellion magic, fighting skills he learned in Hell's gladiator-style arena, some cool weapons (and good-old-fashioned guns), and a whole bunch of ugly scars, Stark travels around L.A. and fends off the various gods and monsters who would love to usher in the apocalypse.
In KILL CITY BLUES, Stark is tasked with finding the Qomrama Om Ya — or "Magic 8 Ball," as he calls it — a weapon of immense power that he lost in DEVIL SAID BANG (the previous Sandman Slim novel). Stark wants it for two reasons: People think he already has it, which has made him and his friends targets; and because it may be the only thing that will keep the older gods who want to invade and destroy our world from actually succeeding.
Luckily, he gets a tip on where the weapon is stashed: in a huge, abandoned shopping mall nicknamed "Kill City" because its become home to various tribes of bottom-rung supernatural beings. If he can navigate the tribes and avoid a series of deadly traps, he just has to convince an insane ghost to give him the weapon.
I compared the character to Conan for a reason: Stark's descent into the bowels of the haunted shopping mall reminded me of some of Robert E. Howard's work, with Conan hacking and slashing his way through a cave or temple in search of a kidnapped nubile princess, never sure what horror was around the next corner.
The story starts off a bit wobbly, and honestly, I started to fear that Kadrey had run out of steam on the series. But the book rights itself rather quickly and the reader gets caught up in the high-octane, adrenalized storytelling. Stark is still the same badass Sandman Slim, the man who gives nightmares to monsters. He's a fearless tough guy ready with a sarcastic quip even when he's facing down torture or death, because really, how do you scare a guy who spent more than a decade in Hell?
That's not to say that the character hasn't evolved over the past five novels. He has. His relationships with the supporting cast have deepened and his ties to them are what keep him fighting even when it seems that all may be lost. One supporting character started off in the first book (SANDMAN SLIM) as an enemy and has evolved into an ODD COUPLE-style friendship with Stark over the course of the series.
And speaking of the supporting cast, if you're a Slim fan and felt (like I sometimes did) that some characters have been underutilized in previous installments, you'll be happy to hear that the majority of them play an integral role in the story. No, they're not just around to provide a last-minute save or info-dump for our hero to move on to the next phase of his adventure. This time, the cast gets to participate in the adventure, too.
I also liked the story of this one and the intermixing of violent scenes with dark self-reflection. Stark's character can go from killing a room full of monsters one minute, to pontificating on the workings of the universe the next. The plot takes some nice twists and turns. There's a betrayal I didn't see coming, and a fatality that I did not expect.
And monsters? Kadrey has some horrific imagery in this one. It makes me wonder if he's prone to fever dreams and keeps a record of them.
That's everything I liked about the book. I would be remiss, though, if I didn't mention a minor quibble I have with it:
As I said above, Kadrey is adept at bringing potential new readers up to speed on past events. Unfortunately, this time around, he was repetitive about some things. Stark tells us that he escaped from Hell (back in the first book) approximately eleven months ago. Then he mentions it again, and yet again, all in the first seventy pages. And seriously (and slightly off-topic), all of the events of the first four books took place in 11 months? I'm not sure why Kadrey felt the need to even mention it, let alone mention it three times.
Later on, Stark describes God, a recurring character(s) in the series, as five separate entities with different personalities. He then describes Him/Them again. Then he tells it to a supporting character. And then tells him again later on.
This is the fifth Sandman Slim book in four years with another due in 2014, so maybe Kadrey missed some of these repeats. (To be fair, I didn't notice this sort of thing prior.) However, the book's editor should have caught it and weeded it out. But as I said, it's a minor quibble and really shouldn't deter you from trying the series if you're a newbie. If you're already a fan, you probably already have it and, like me, are waiting patiently for the next installment of this cool anti-hero. —Slade Grayson