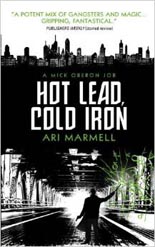 It's 1930s Chicago, land of the mob families and corrupt politicians, and old-school gumshoe Mick Oberon is one of those trench coat-wearing, wand-waving types. Yes, HOT LEAD, COLD IRON is a story that takes the real-world idea of Prohibition-era Chicago and mixes in some otherworldly like elements — namely, that of a magical Chicago Otherworld that easily interacts with the real Chicago.
Oberon is called upon by the wife of a Mafia boss who has a case is the coldest of cold cases: finding her daughter who's been missing for over 16 years. What has been living in her house all these years is actually a changeling that she has been pretending is her real daughter.
The case will take Oberon through the gang wars of Chicago to the otherworld courts of Fae, where once he starting poking around is pretty much like hitting a hornet's next with a baseball bat.
Author Ari Marmell uses the idea of magical interaction within the reality of '30s Chicago really well. While it will take some readers a bit of time to become adjusted to this concept, it does work rather well since in essence, Oberon is very much a pulp detective — just not human.
As the novel progresses, we learn more and more about these two worlds and how a character like Oberon can survive in both, which clash in weird ways. For you English majors, yes, his name is connected to that other Oberon. The book does a nice job of never tipping its hand, with a climax that delivers on all aspects. This is the first of a planned series, and since Marmell has set up the rules of this world, we can only wait to see where he takes his creation next. —Bruce Grossman