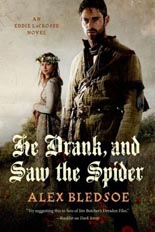 I love Eddie LaCrosse. This swashbuckling mix of a wisecracking, self-deprecating amateur detective and highly competent sword jockey is Alex Bledsoe's series character in Alex Bledsoe's rather giddy fantasy novels. HE DRANK, AND SAW THE SPIDER is the fifth in the series (so you should collect them all) and takes Eddie back to an incident early in his career.
Sixteen years previous, Eddie was traveling through the small town of Mummerset when he comes across a man carrying a baby and being chased by a bear. The bear mauls the man and although Eddie kills the bear, he is too late to save the man.
The man's last act is to give the baby girl child to Eddie asking him to save her. Eddie, as can be imagined, is a bit nonplussed, but he ends up finding a safe place for the child in the nearby village. He is disconcerted by soldiers who are searching for the lost child, but after seeing that the baby has been tattooed, decides it would be best if the child stayed in the village.
Later, he and Liz are traveling through the area and it slowly dawns on him that he has been here before. He meets up with the child he helped to save, who has grown into a beautiful woman, and seems to have been raised by a strong, loving family. Enjoying the bucolic nature of Mummerset, Eddie and Liz decide to spend a bit of time in the town, taking part in one of the local festivals.
It's then that the politics of the region come crashing down on Eddie and Liz. Crazy kings, power-hungry wizards, a horrendous man beast that strikes fear in the hearts of all, and at the center of this is the now-grown woman who happens to be carrying on a romantic canoodling with the king's son. That may not end well.
HE DRANK, AND SAW THE SPIDER is more intimate than some of Bledsoe's other books that featured epic battles and overwhelming stakes. I also like the conceit of finding out about LaCrosse's early days. With its usual good humor and quick pacing, this is a welcome addition to the series and if you were wondering, yes, you should be reading these. —Mark Rose