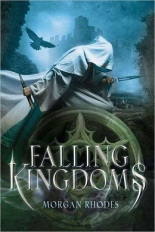 I really wanted to like FALLING KINGDOMS. The basic political conceit at the novel's core is a good one, and author Morgan Rhodes is definitely going for epic fantasy in the royal intrigue and war on the horizon vein, so politics are important.
The book concerns three countries, Auranos, Limeros, and Paelsia: The first two are rich and well-off, while the the third has been ruined by the others feeding off its natural resources. It's a situation not dissimilar to countless real-world examples, many concerning my own United States in the position of power, and this setup piqued my interest.
But FALLING KINGDOMS was too caught up in characters it could not pay me to like — and a plot pushed forward by their unfathomable actions — to deliver on its promise.
This is, unfortunately, the sort of story that shows a character to be an alcoholic because he literally never doesn't have wine on him, and is obsessed with it as a product, rather than because he acts in any way like someone with a dependency. His supposed alcoholism is, really, just a marker of his evil. It's also the sort of story in which everyone tells you that a character is strong and brave and good, while you, the reader, see none of it.
It is the actions of that second character, the young princess Cleo, that drive much of the plot in KINGDOMS' midsection — actions that are presented as courageous and reasonable when they seem, to a reader, only ill-conceived, selfish and pretty much insane. Everything else in the book is driven by evil witches; well-meaning, hunky young men; four magical objects of elemental power (it's always four); and, predictably, shifty kings.
Well, one shifty king does reassure someone by saying, "It's all good," at one point. That wasn't predictable.
All of this is watched by secret magical people, Watchers, who are disguised as birds. This means that the regular, human characters constantly talk about how it seems as though the birds understand what they're saying, and isn't it funny how that reminds them of old myths about bird people? Why, that it's almost like they're being watched! The Watchers are another example of a concept in FALLING KINGDOMS telegraphed so blatantly that one wonders why it needs to keep being brought up at all.
It probably doesn't sound like it at this point, but I really did want to get something out of this book, and there are germs of good ideas here, like the aforementioned geopolitical quandary, opening scenes that promised actual moral ambiguity, or a few genuine surprises in the storyline. But surprises don't matter much when there's nothing terribly remarkable about that plot or characters, and the world never coalesced enough to make me want to come back. —Elijah Kinch Spector