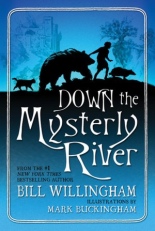 If I said to you that Bill Willingham was a fabulist or that he wrote young-adult novels, I would hope that you don't get the wrong impression and assume that his writing is unsophisticated or meant for only a niche audience. For in his DOWN THE MYSTERLY RIVER, he manages to invent a world filled with danger, adventure, even death, but that could be read by anyone from the age of 8 to 88 and who would not be offended by any questionable morality or contentious politics.
And in the end, the final conceit (which I will not spoil for you here) wraps all of this up quite neatly, presenting a few philosophical conundrums along the way, and making the book a charming and coherent whole.
The adventure features Max the Wolf, a young Boy Scout who finds himself in a strange part of the woods, unconscious about how he got there. He must have gotten lost, but he seems to have trouble remembering the exact circumstances.
Then he encounters a badger — a talking badger, at that — and he worries that he may be hallucinating or even that he has died and gone to the afterlife. As he and the badger converse around a campfire — could this all be just a dream? — a giant domestic cat is chased into their encampment by a pack of howling dogs and a sinister character with a bright blue sword.
As Max and the reader eventually come to learn, the man is a member of the Blue Cutters. These are people who can use their swords to cut out memories and behaviors of individual entities, humans, animals or plants, to modify that entity's history into something that the Blue Cutters believe is a better version of the original creation.
This thought chills Max and his newfound animal friends to the very bone, and so they launch a journey to find out exactly how they ended up in this maddening place and what exactly they can do about it.
Known for the Vertigo comic book FABLES, Willingham has a pleasing, almost affectless style, but he's sneaky good at working in certain words and thoughts which come to have much more meaning later on. The sweet illustrations by Mark Buckingham that adorn chapter heads and endmaps also lend much to the proceedings.
DOWN THE MYSTERLY RIVER is an excellent little fantasy/fable written with clarity and thoughtfulness. Very well done. —Mark Rose