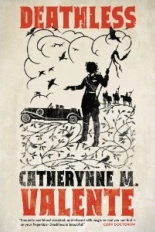 I've had this one on my TBR pile for a while. It's not that I didn't want to read DEATHLESS or that I'm not a fan of Catherynne M. Valente …
I thoroughly enjoyed her THE HABITATION OF THE BLESSED, but her writing is dense and lyrical, a step away from verse. In other words, it's not easy Sunday-afternoon reading. You don't speed-read your way through it, because every line is another brush stroke on a very large canvas. Rush your way through her story and you'll miss an important wash of color.
In DEATHLESS, Marya is a young child in Stalinist Russia who watches as birds transform into men and, one by one, take her sisters as their brides. When her groom-to-be comes for her, however, he is much more than that. He is Koschei the Deathless, the Tsar of Life, and he is locked in an eternal struggle with his brother, the Tsar of Death. And you thought your in-laws were trouble.
 
Valente has taken a bunch of old Russian fables and transplanted them into post-WWI Russia. It works … for the most part. Marya is the archetypical young girl transposed into a fairy-tale world of gnomes and witches, but the story ultimately becomes a love triangle that is reminiscent of (ugh) TWILIGHT (girl finds herself straddling a world of the supernatural and is torn between the love of two men that are diametrically opposed).
Although the author shows skill at taking old fairy tales and legends and showing them in a new, modern light — much like Neil Gaiman did in AMERICAN GODS — I still found the story to be lackluster.
But damn, she has a talent for prose:
• "Silence forked across the table like ice cracking."
• "His pale lips sought hers, crushing her into a kiss like dying. She tasted sweetness there, as though he still kissed her with honey and sugar on his tongue."
• "It was late spring when Marya Morevna slid her brass key into the lock of the house on Dzerzhinskaya Street, feeling it slide, too, between her own ribs, and open her like a reliquary full of old, nameless bones."
I like the novel enough to recommend it, and the author's talent for a turn of phrase was enough to keep me reading, but don't delve too deeply into the originality of the story. It's all been done before, of course — just not quite this beautifully. —Slade Grayson