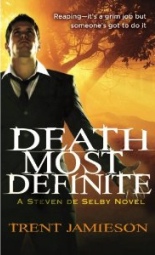 Death is a complicated business. That's the premise behind DEATH MOST DEFINITE, the first in the "Death Works" series by Australian author Trent Jamieson. But he's not being metaphorical. In his urban fantasy world, death is literally a business, and a very complex one at that.
The novel introduces us to the series main character, Steven de Selby, who lives in Brisbane and works as a Psychopomp (or Pomp, for short). It's his responsibility to see that people who recently died are properly escorted to the Underworld. His father was a Pomp before him, and indeed, the business of death has been in his family for many years.
One morning, Steven notices the spirit of an attractive dead girl in the food court of a nearby mall. He wasn't assigned to meet her, so he immediately wonders why she is there. But as he struggles with this inconsistency — and the fact that she is so hot — the girl tells him to run. Suddenly, the mall erupts in gunfire, and Steven ducks for cover while trying to keep track of the dead girl.
The incident launches Steven on a mad and desperate search to find out what went wrong, and why Mortmax, the sort of death-coordinating business he works for, has been reduced to utter and violent chaos. Regional offices have been unexpectedly shut down and the big boss, Mr. D. himself, has gone fishing. Someone or something wants Mortmax eliminated and its employees dead, all of which makes Steven's work and life much more hectic.
 
Jamieson has obviously been influenced by the various depictions of Death in fantasy fiction and film, as he readily admits in a brief interview that is included in this Orbit edition. He's taken those influences and embellished them with myths and legends about death from around the world. The resulting inventiveness — with its Psychopomps, coordinated networks of guiding souls to the Underworld, and all the other commerce-inspired details — is the most appealing characteristic of this first novel.
 
Unfortunately, after its abrupt, but alluring opening chapters, the debut settles into a predictable pattern of one chase scene after another for Steven and Lissa, the dead girl for whom he has officially fallen. There is plenty of action and more fanciful revelations of how death really works and all that can go wrong with the process, but sadly, not much more.
 
Any business is only as good as the people running it, so the time-worn adage goes. And the business of death is no exception. That's why Jamieson's series still shows promise. Perhaps successive books — the next, MANAGING DEATH, is due out soon — will get around to telling us more about the people, especially Steven and Lissa, along with the various machinations of dying itself. —Alan Cranis