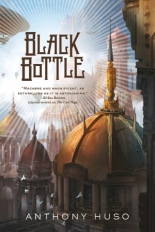 Reading Anthony Huso's BLACK BOTTLE is a little like hearing snippets of someone telling a fascinating story, but never quite catching the context. It's a beautifully written book for the most part; I just wish I could tell what was actually going on.
Although not noted as such as on the cover, this may be in part because BLACK BOTTLE is a sequel to 2010's THE LAST PAGE, which I haven't read, and which probably laid out a lot of the political, personal and magical machinations that are so central to this book. Even so, it's hard to imagine that reading the first book would have prepared me for the level of fantasy jargon and obscure imagery that the novel's stylistic choices — enthralling as they can be — seem to require.
BLACK BOTTLE follows the purposes and cross-purposes of Caliph Howl, King (but not, uh, Caliph) of Stonehold; his love interest/advisor/witch, Sena; an idealistic missionary named Taelin; and a whole bunch of scary fish people. There are plagues, magic battles, airship chases, crazy drugs, ghosts, political intrigues, potentially world-ending ambitions and wonderfully strange and evocative sentences like, "A necklace of alien placentas."
So that's all good stuff, but it never quite feels … real, which might be a strange thing to say about a fantasy novel where witches — from the Witchocracy, no less — make magic from blood and math. Even so, the events taking place, and the objects and characters of the story, never quite come into focus, never feel solid. They seem to float out of reach behind the prose. Dream-like can be very good, but doesn't always work when one is trying to follow a complicated plot based very heavily on the unclear metaphysics and magics its center.
Many times I found myself very wrapped up in what was happening, only to hit a wall with a sentence giving too much information while not explaining enough, or eschewing description for a wonderful phrase.
For example, "He looks up into heavens the color of paint mixed with ash," is a really visceral idea that grabs you at first, until your brain starts to work around the fact that paint doesn't have a default color. It sounds good, but doesn't tell you what those heavens actually look like. I often found that I was getting a lot of jargon about the backgrounds and unspeakable appearances of Lovecraftian elder gods, without knowing what some of the main characters looked like, or how they dressed.
And this was frustrating because I really wanted to be able to connect the fascinating, but disparate dots that made up the story. I cared about Caliph, and so I wanted to know what he looked like; I enjoyed luxuriating in the strange details of that world, so I wish I could've understood the forces threatening it; and I was wrapped up in the crisscrossing of the plot, so I would've liked to have had some idea what the motivation for a certain character's betrayal and continuing actions actually was.
I held out for a denouement that would explain the things I wanted to know, or give a good reason for leaving them up in the air, but BLACK BOTTLE'S ending, like so much of it, was simultaneously brave, surprising, unsatisfying, sensuous and maddeningly mystifying. —Elijah Kinch Spector