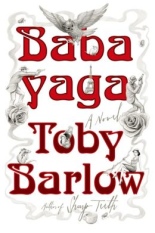 At the end of the very first chapter of BABAYAGA, a mistress meanders through memories of her lover as he attends to his post-coital toilette. This is Paris. The mistress is worldly; the scene is languorous; the musings (and prose) lush to the point of overripe.
Zoya lingers over Leon's chubby good cheer, delights in his charms and his foolishness, laughs fondly over his recounting of his other female relationships (his bitter mother), but frets at a question he innocently asked: "How do you stay so young?" And there's meant to be an interesting counterpoint in the chapter's final line, as Zoya ponders a set of spiked rails on a fence, a perfect place to impale Leon's skull.
The whole novel seeks out that sweet spot between confection and thrill, bakes razors into its ornate cake. Author Toby Barlow takes great pleasure in the extravagance of his plotting, juggling conventions from farce and espionage and a fabulist alt-history, every act and agent full of hidden agendas, reality a thin curtain pulled back to reveal so very, very, very much going on behind the scenes.
Zoya is one of two Russian witches hiding in 1959 Paris. Will is a young American abroad, working at a PARIS REVIEW-type journal, caught up in Cold War shenanigans. Inspector Vidot is tracking murders, his investigation slowed by his transformation into a flea.
And so on. It is about l'amour and myth and self-invention and Paris. It was also, for this reader, a slog. I felt like I was jogging through heavy cream. Tim Powers somehow manages to pull off such feats — not just such manic, outsized plotting, but also the tonal change-ups which leap from farce to fear, from earned sentiment to meta-history.
Barlow certainly has the chops to manage such risks. His first novel, SHARP TEETH, negotiated whimsy and wickedness (werewolves in Los Angeles, told entirely in free verse) with a machine-tooled precision, whereas BABAYAGA seems to flag or fail at the level of the sentence or paragraph. Barlow's plot throws so many disparate ingredients into the mix. There's a glee and confidence to the collision of Russian folktales and a fictionalized George Plimpton. But that confidence leads to extended riffs in the writing, a maximalist impulse that some may find charming but struck me numb. Paragraphs bog down in details, asides, cleverness. The fancy becomes fatal.
This may be, however, a mismatch of reader, circumstance, goals. The book is keen to examine — at length — its characters' and its author's pleasures. The set of their pleasures did not often coincide with the set of mine. BABAYAGA leans too heavily on its whimsy for my tastes, but it may cast the perfect spell for many. —Mike Reynolds