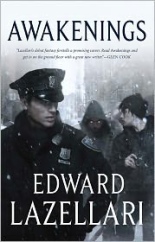 Stop me if you've heard this one before: A group of men and women here on Earth are all of a sudden shocked into the realization that their entire lives up to this point have been a lie. They are actually not the policemen or students they thought — instead their real, true existence was as a warrior, leader, councilor, adviser, prince or princess in an alternate universe that may or may not exist on a different planet.
Yes, the plot is rather trite, but it's what Edward Lazellari does with the conceit in his debut novel, AWAKENINGS, that make the beginning of what promises to be a series so special.
In this case, our humans are policeman Cal McDonnell, slacker/loser/pornographer Seth Raincrest, and a 13-year-old boy named Daniel Hauer. Both Cal and Seth went through a traumatic incident 13 years ago and have absolutely no memories of what occurred before that time, post-traumatic amnesia.
Of course, what happened is that 13 years ago, they visited Earth from their real home of Aandor, an alternate universe that exists in conjunction with Earth, but is invisible to us poor mortals. They did so to protect an infant who would eventually be destined to be emperor, but who was in danger from court conspiracies of being killed before his maturation. But when they came to Earth, a messed-up magic spell wiped their previous memories clean. Since the boy, Hauer, was an infant at the time, he, too, suffered memory loss but has no recollection of the gap in his memory.
Aandor is in trouble, war is brewing, and the only thing that can be done is for the Aandorians to come to Earth and find this lost tribe of early visitors, reignite their memories of their true homeland, and hopefully return the infant-now-teen to his throne on Aandor. Of course, there is a rival faction intent on finding the same party and killing the boy, so there can be no regal line of succession running through his bloodlines.
But in 13 years' time, things have changed. The policeman, though he is a mighty warrior at home and betrothed to one of the most beautiful princesses of the land, now has a wife and child in the present. That won't fly well back at Aandor. And the boy …
While the whole alternate universe/alternate lives thing is fairly common in fantasy, Lazellari gives it a special kick with some startlingly well-done dramatic vignettes. The opening scene is especially riveting, as are all the chapters dealing with the heartbreaking story of Hauer, who is brutally abused by his alcoholic stepfather. Raincrest's pitiable attitude is especially well-done in behavior and dialogue, and even the battle action scenes liberally peppered throughout the book have a raw rightness to them.
It's the little side stories in between — like what happens to a centaur named Fronik, or the assault on one of Hauer's friends — that elevate the overall tale from lame to intriguing. I'm definitely looking forward to the next book to find out what becomes of these characters. —Mark Rose