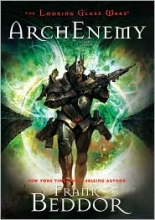 Another popular fantasy trilogy comes to a close as Frank Beddor delivers ARCHENEMY, the final chapter in his LOOKING GLASS WARS series. You may find it shelved in the young adult section at your local bookstore, but it's to be equally enjoyed by adults, especially those more familiar with its source material.
And that's Lewis Carroll's ALICE IN WONDERLAND. In Beddor's rebooted world, though, Alice is Alyss, a young queen out to save her kingdom in a land ravaged by war — not for property, nor riches, but imagination itself. Given that Wonderland's soldiers fight with card-shooting weapons like the AD-52 (as in Automatic Dealer, 52 cards to a deck), imagination is one thing ARCHENEMY is full of.
Her primary foe in this epic closer is the evil King Arch of Boarderland, who makes a play for Wonderland as part of his dastardly plan. Alyss isn't alone in standing up to him, though, with the likes of Bibwit Hare and Gen. Doppelgänger by her side. Half the fun in this series is seeing how Beddor translates Carroll's original characters into his own — for the record, Bibwit and the general are his takes on the White Hare and Tweedledum/Tweedledee, respectively.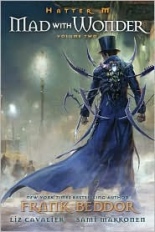 Halfway through, the novel sees the return of Hatter M, the assassin who proves himself — to me, at least — as this series' MVP. Perhaps that's why he's been spun off into graphic novels, including ARCHENEMY's accompanying HATTER M: MAD WITH WONDER — VOLUME TWO.
Written by Beddor and Liz Cavalier, the hardcover comic picks up where its predecessor left off, with Hatter M scouring the world during his 13-year search for Alyss. His travels take him to the streets of London, the ocean blue, a traveling carnival and even the battlegrounds of the Civil War — all the better for him to bust out his blade-befitted exosuit.
One thing's changed, though: Ben Templesmith no longer is handling art duties. Instead, they've been assumed by Sami Makkonen, whose style really isn't all that far removed, making for a near-seamless transition between volumes. Between the novel and the graphic novel, I prefer the latter for its sharper focus and visual stimulation, but both are pieces to an enjoyable puzzle. —Rod Lott
OTHER BOOKGASM REVIEWS OF THIS AUTHOR:
• HATTER M: THE LOOKING GLASS WARS – VOL. 1 by Frank Beddor and Ben Templesmith
• THE LOOKING GLASS WARS by Frank Beddor
• SEEING REDD by Frank Beddor