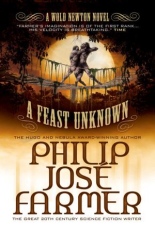 Titan Books is in the process of reissuing some of the works of Philip José Farmer, particularly the books that were part of his Wold Newton universe. For those unfamiliar, the whole of the Wold Newton output connects every big fictional creation to one another in one universe.
It's been debated by readers if A FEAST UNKNOWN falls into the much larger world, but it seems Titan says so, right up top on the new paperback's cover. In this one, Farmer tackles two large and important pulp figures, but renames them so he would not get sued.
The bulk of the story deals with a battle between Lord Grandrith, a fabled jungle lord, and a mysterious man of bronze named Doc Caliban. If you can't figure out who these characters are based on, you need to read more pulp. The novel is set up as volume nine of Lord Grandrith's autobiography, so everything is told from Grandrith's perspective. He and Doc Caliban fight over a precious elixir they both need that is given out by a mysterious group called The Nine. The elixir gives eternal life to these two, who still look like they are young men.
It should be noted that when A FEAST UNKNOWN was originally published in 1969, it came out through an erotic publishing house. Knowing this fact will make reading FEAST a bit easier to devour. I would say a third of this book — and I'm not joking — deals with how both these men can only get off, so to speak, through violence. It seems a page does not go by without a mention of their genitals and their functions, as if Farmer was fascinated with shocking his readers, whether through homoeroticism, incest or even bestiality.
Back to the two main characters, readers will notice a lot of their respective series' supporting characters making appearances, with some even questioning what has really been going on in their adventures. Farmer seems to know the material, but puts it all through a blender of sorts.
The book leads into two sequels, which tie into the defeat of The Nine: LORD OF THE TREES and THE MAD GOBLIN; Titan has also reissued LORD, with GOBLIN to follow in June. In FEAST, the afterword is by Arthur Sippo, who explains a lot about Farmer's series while breaking them down. If only if his introduction warned readers about a few things before dropping them into this world, it would make things a bit easier. —Bruce Grossman