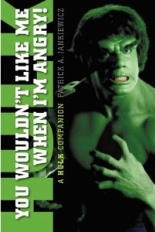 With the same care and excellence he brought to his JAWS book, Patrick A. Jankiewicz does the history of Hulk right with YOU WOULDN'T LIKE ME WHEN I'M ANGRY: A HULK COMPANION. Seriously, this is so well-done, so thorough, it's a shame Universal couldn't package it with THE INCREDIBLE HULK: THE COMPLETE SERIES.
Not that they would; studios just aren't that hip. Plus, CBS' prime-time hit series of the late '70s and early '80s is only one screen spin-off of the iconic Marvel Comics character, and Jankiewicz covers them all, after a brief intro to the four-color version, of course, back when the misunderstood gamma guy's skin was gray.
Aside from Saturday-morning cartoons of the 1960s, Hulk didn't really conquer television until Kenneth Johnson brought him into the live-action world, played by Bill Bixby as alter ego David Banner (famously changed from the comics' Bruce, because Johnson despised the alliteration Stan Lee so loved) and Lou Ferrigno as Hulk. (Ferrigno provides a foreword here that not only lends the book credibility, but is so lengthy that it's genuinely written from the heart.)
Because the superhero series was so popular, the bulk of HULK COMPANION is naturally devoted to it. You can view it as a detailed episode guide to the show's five seasons — and it is that, a helpful navigator to make your way through the intimidating DVD set — but Jankiewicz is too thoughtful to end there. He also covers the made-for-TV reunion movies (co-starring Daredevil and Thor, seemingly costumed by Dollar Tree), the big-budget feature films of 2003 and 2008, and something I didn't even know existed: a pilot for SHE-HULK in which Bixby participated.
Trust me: At more than 500 pages and boasting a judicious amount of photographs, this thing is a wealth of info. That would mean little, however, if it weren't well-written, but Jankiewicz is a total pro. Plus, he doesn't rely on other sources like so many fanboy guides would and do; he interviews practically everyone still alive who ever was associated with the series, from day-to-day crew to some one-shot guest star. That kind of dedication is impressive, and the interviewees seem to appreciate that by being so open.
If the phrase "Hulk smash" makes you smile, yet Joe Harnell's end theme to the HULK TV series makes you sad, you won't like YOU WOULDN'T LIKE ME WHEN I'M ANGRY. You'll love it. —Rod Lott
Buy it at Bear Manor Media or Amazon.