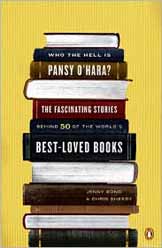 By now, the story of the dark and stormy night that spurred Mary Shelley to pen FRANKENSTEIN is known even to those who've never read the novel. But raise your hand if you know how CASINO ROYALE came to be, or how THE CATCHER IN THE RYE got started. You'll know the answer — and 47 more — after reading Jenny Bond and Chris Sheedy's WHO THE HELL IS PANSY O'HARA?: THE FASCINATING STORIES BEHIND 50 OF THE WORLD'S BEST-LOVED BOOKS.
To be honest, these stories aren't so much about the books, but their authors. Each chapter is like a mini-bio, and sometimes Bond and Sheedy have no info to deliver on what sparked the idea for a particular book. Sometimes, it just is. Even still, WHO THE HELL is quite entertaining, especially for trivia buffs and people too lazy to read full-length biographies.
The book is arranged chronologically, moving from Jane Austen's PRIDE AND PREJUDICE to Dan Brown's THE DA VINCI CODE. Then at the back, a few nonfiction titles are included as well, from Samuel Johnson's THE ENGLISH DICTIONARY to Stephen Hawking's A BRIEF HISTORY OF TIME. Hey-didja-know facts are doled out for each. For example, Brown turned to writing only after trying his hand (and failing) at creating synth-driven kids' albums with song titles like "Happy Frogs." And Hawking only wrote BRIEF HISTORY for a quick buck, because full-time caretakers don't come cheap.
For WAR AND PEACE, you learn that Leo Tolstoy had his wife hand-copy that 1,000-plus-page manuscript seven times. What an ass! An early, accidental childhood act of violence on William Golding's part may have helped shape LORD OF THE FLIES, and Frederick Forsyth's work as a journalist in Germany and France definitely informed his hit assassination thriller THE DAY OF THE JACKAL.
In wisely choosing to cover influential and popular books rather than just the so-called "classics," the authors open their book to a wider breadth of works and readers. While I'd like to know the backstory to Fyodor Dostoevsky's CRIME AND PUNISHMENT, I'd also like to know the one for, say, Peter Benchley's JAWS or Stephen King's CARRIE. Happily, this project does both.
Whether you like H.G. Wells or J.K. Rowling, Margaret Mitchell or Jackie Collins, Charles Darwin or Dr. Seuss, WHO THE HELL is bound to satisfy your particular brand of curiosity. —Rod Lott