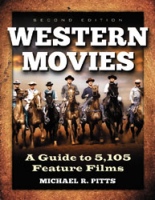 Just so we're square, when Michael R. Pitts subtitled his WESTERN MOVIES book as being A GUIDE TO 5,105 FEATURE FILMS, he wasn't screwing around. There are exactly 5,105 flicks reviewed in this sucker. Sure, the review may be a capsule that runs a single sentence or an extended paragraph, but it's a review nonetheless, and hot damn: 5,105 of 'em.
How many Westerns are in existence? I'm guessing it's somewhere a horse hair north of 5,105, so as if you need to be told, that makes this paperback indispensable for fans of oaters. Thanks to the likes of the Coen brothers' TRUE GRIT remake and Quentin Tarantino's DJANGO UNCHAINED, they arguably number many more now than five years ago.
From 1946′s ABILENE TOWN to the 1939 serial ZORRO'S FIGHTING LEGION, Pitts provides the deets on any Western you're ever likely to run across on TV, tape or DVD. Some 900 titles have been added since the first edition was published in 1997.
True, this book contains many more of the old-fashioned oaters popular among your American nursing home residents than it does Italy's spaghetti Westerns beloved by younger generations, but it's quite possible — as it is in my case — that prolonged exposure to the latter can result in curiosity about the former. Should such symptoms occur, this is an excellent map to separating the wheat from the chaff, and in a simple, unshowy, no-fuss manner.
Although being illustrated with photos and poster art is a welcome touch, where WESTERN MOVIES really excels is organization. Say you can't remember the name of that one movie with Doodles Weaver: All you have to do is locate his name in the index, and the numbers after it relate not to the page numbers, but the actual review. That's handy!
And for trivia nerds, an appendix lists the names of the horses of the genre's heyday superstars. —Rod Lott