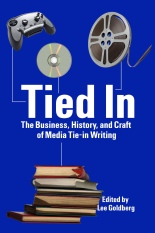 TIED IN: THE BUSINESS, HISTORY, AND CRAFT OF MEDIA TIE-IN WRITING is a perfect book for the Bookgasm audience. When this site started, it was books like tie-in novels that were the impetus, since at the time, no other places would dare cover them. Edited by Lee Goldberg, this collection of essays and interviews gives a wide overview of those books that populate countless bookstores, supermarket aisles and airport gift shops.
As someone who grew up reading tie-in novels — mainly of the DOCTOR WHO variety, they were the only way I could read stories that sadly were lost to time or that my local station would never show. But back to this top-notch work, which collects pieces from a variety of authors who've worked in the genre, like Lee's brother, Tod, who reminds us about "real" writers who wrote tie-in novels, lest we forget Jim Thompson and Kingsley Amis.
Max Allan Collins reveals two stories that were heartbreaking to him. The first deals with his novelization of Warren Beatty's DICK TRACY movie, where Collins fleshed out the story and made the mystery just that: a mystery. He was told corrections had to be made, but things worked out in the end. The second deals with the novelization of the Tom Hanks film ROAD TO PERDITION. The movie was based on Collins' own graphic novel, but his tie-in had to be cut down and have huge chunks taken out. It's this piece that clearly shows if you are a tie-in writer ,don't get attached to your own material, since you will have to answer to higher-ups.
Donald Bain gives a history lesson of his tie-in output, as the sole writer to all those MURDER, SHE WROTE books. Elizabeth Massie explains how she had to condense a season of THE TUDORS into one book — a challenge she has now completed twice. Paul Kupperberg goes into material he has covered on this site about turning comics into prose novels, while David Spencer gives a historical piece about TV tie-in novles from the 1950s to the 1970s, when writers were given free reign, for the most part.
Jeff Ayers writes about how he wrote a book about the STAR TREK novels and their authors. One of the best essays deals with a movie barely anyone saw, as Burl Barer explains how he filled massive plot holes when writing the novelization of STEALTH — you know, the movie where a plane has a mind of its own. There is a shortened and reprinted interview with Raymond Benson about his time writing for the James Bond series. Be warned: There are spoilers for some of them.
These are just a few of the pieces that make up this fascinating look into books which most people just think of as guilty pleasures. But we here at Bookgasm have nothing but love for them. —Bruce Grossman