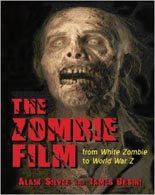 With THE ZOMBIE FILM, film historians Alain Silver and James Ursini have compiled an irresistible companion to their book-length study of THE VAMPIRE FILM, updated in 2011. While the author duo is known primarily for works on film noir, they know their subject well no matter what that subject is, and I devour every book they write.
Especially here, their work occupies that space between academia and entertainment; they have it both ways, approaching the subject seriously while also having fun with it. Who else, for instance, would write about Bela Lugosi's distinctive eyes in WHITE ZOMBIE, then plop a tiny photo of those peepers right within the text?
After a brief overview of the zombie's place in overall popular culture, that 1932 picture begins Silver and Ursini's survey of undead cinema, with the expected extended stop at George A. Romero's groundbreaking work, yet also many unexpected obscurities from around the globe. Speaking to my point in the previous paragraph, the text is laden with such phrases as "amour fou" and "patina of gravitas," but also — in the case of Japan's ATTACK GIRLS' SWIM TEAM VS. THE UNDEAD — "laser hidden in her vagina."
Sidebars — which actually can and do run for several pages — include looks at Boris Karloff's makeup, Val Lewton's visual style, Richard Matheson's ever-influential I AM LEGEND novel, the small-screen smash of THE WALKING DEAD and, most amusing, Silver's account of his own contribution to the genre, 1981's low-budget KISS DADDY GOODBYE. Never heard of it? You'll soon understand why.
The breadth of coverage is as impressive as the illustrations on every page, presented in full color. The font chosen for the body copy is odd and curiously dated, but you can't win 'em all. As with Silver and Ursini's VAMPIRE book, THE ZOMBIE FILM ends with a filmography, this one more than 530 titles strong across 60 pages. For movie buffs who consider such things a checklist and/or a challenge, this is a volume to pore over for hours on end and then treasure for years after. —Rod Lott