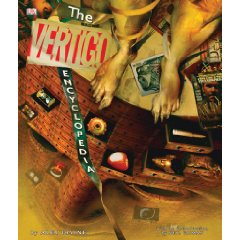 When I entered high school, I gave up comics out of embarrassment, dismissing them as kids' stuff even though I knew that wasn't the case. In adulthood, it was the works of DC's mature-audiences imprint that brought me back into the hold, with titles like SWAMP THING and THE SANDMAN that were far more literate and intelligent than the comic books I was used to.
It's no understatement to call Vertigo's influence on the industry as revolutionary. Celebrating that shake-up is THE VERTIGO ENCYCLOPEDIA, a mammoth hardback assembled by sci-fi/fantasy writer Alex Irvine that covers practically every title the line ever issued, no matter how short-lived — intentional or otherwise.
And there were plenty of stinkers. As Neil Gaiman posits in his introduction, some should never have left the idea stage. But luckily, so many made a huge impact on the comics world — and some even beyond, into film and TV, as well as general pop-culture consciousness. If they hadn't, this book simply wouldn't exist, at least not from a big publisher like DK, which specializes in this kind of highly visual, image-saturated tribute.
The bulk of the book is devoted to one- to two-page spotlights of 80 notable titles from the company's decade-and-a-half existence. The bigger boys — 100 BULLETS, PREACHER, HELLBLAZER, FABLES, THE INVISIBLES, Y: THE LAST MAN — rightfully earn a few more spreads. For each, Irvine provides an introduction, summarizes the storyline, explores key characters and gives stats on the creators, awards, run dates and other facts. No slight to Irvine, who's a fine writer, but this would be pointless if it weren't illustrated. This being DK, boy, is it ever!
If your favorite Vertigo title isn't covered in the main section, you'll find it in the closing "Gazetter" section, which dishes out mini-blurbs for 120 more books, most of which are now forgotten. This section is appreciated, because it grants the ENCYCLOPEDIA completeness, but also is frustrating, because I somehow doubt we're likely to see any of these issued in trade paperbacks. For someone like me who'd love to check out, say, the horror anthology FLINCH, this amounts to cruel taunting! —Rod Lott
OTHER BOOKGASM REVIEWS OF THIS AUTHOR:
• THE NARROWS by Alex Irvine
• THE SUPERNATURAL BOOK OF MONSTERS, SPIRITS, DEMONS, AND GHOULS by Alex Irvine
OTHER BOOKGASM REVIEWS OF FABLES:
• FABLES: ARABIAN DAYS (AND NIGHTS)
• FABLES: HOMELAND
• FABLES: 1001 NIGHTS OF SNOWFALL
• FABLES: SONS OF EMPIRE
• FABLES: WOLVES
• JACK OF FABLES: JACK OF HEARTS
• JACK OF FABLES: THE BAD PRINCE
• JACK OF FABLES: THE (NEARLY) GREAT ESCAPE
• VERTIGO: FIRST OFFENSES
OTHER BOOKGASM REVIEWS OF SWAMP THING:
• SWAMP THING by David Houston and Len Wein
• SWAMP THING: HEALING THE BREACH
• SWAMP THING: INFERNAL TRIANGLES
• SWAMP THING: LOVE IN VAIN
• SWAMP THING: SPONTANEOUS GENERATION
• THE UN-MEN: GET YOUR FREAK ON!