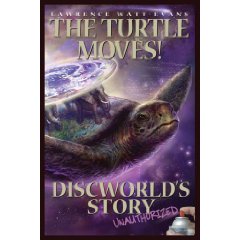 Have you ever come across literary criticism that makes you laugh? Here's one, just for Terry Pratchett fans: Lawrence Watt-Evans' THE TURTLE MOVES!: DISCWORLD'S STORY UNAUTHORIZED. Even if you've never read a book in the DISCWORLD series, this is a great introduction for new readers.
In his three introductions, editor Watt-Evans answers questions for both longtime readers and newbies. The book covers every DISCWORLD novel and short story, right up to the latest installment, MAKING MONEY. What Watt-Evans does really well is set up the book to where it can either be read right through or just for the books that you are a fan of instead. He covers each book or story as they were published, giving synopses without major spoilers, at the same time discussing how they fit into the larger world of the series.
Watt-Evans does a tremendous job summing up the books and pointing out how the start of the series was direct parodies of the fantasy genre, summing up Anne McAffrey's whole output with just two words: "magic ponies." (Anyone who has read her work should all be laughing now.)
After all the books are discussed, we move into a bit more commentary, in which the phenomenon and nature of Pratchett is discussed. It's not some fanboy slobbering over his hero, but a fellow fantasy author discussing how he is just amazed by how well Pratchett has endured. My one complaint is that there are some true stand-alones in the series, but Watt-Evans comes up with his own idea of where to group them. This is a minor disagreement in a through discussion.
Closing out the criticism portion of THE TURTLE MOVES! is a section that goes through background characters, villains and, of course, one whole piece about luggage. The book finishes up with a detailed reference section listing all the books, with a huge section that never made it to our shores. Also included is a bibliography of all the books that are referenced within this collection.
For a literary criticism book, this is light and breezy enough for anyone with an interest in DISCWORLD. It shows throughout that Watt-Evans is a huge fan of the series, with his own brand of droll humor seeping within the pages. THE TURTLE MOVES! will be looked upon as a great resource for years to come, even though Watt-Evans points out that there are plenty of people online with their own theories. —Bruce Grossman
OTHER BOOKGASM REVIEWS OF THIS AUTHOR:
• THE NINTH TALISMAN by Lawrence Watt-Evans
• THE WIZARD LORD by Lawrence Watt-Evans