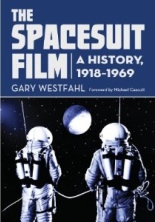 I'm just the sort of film obsessive who loves not only genres, but very specific subgenres. Such is the case with California professor Gary Westfahl's THE SPACESUIT FILM: A HISTORY, 1918-1969. Who knew "spacesuit films" were a thing? And why does it end at 1969? Because with the Apollo 11 moon landing, the idea ceased existing as only science fiction. Once that happened, the appeal of astronaut fantasy started to wear off.
But I'm getting ahead of myself. A "spacesuit film" is just as it sounds: a movie featuring men (and sometimes women) in spacesuits as they travel through space. If that was a primary element to a movie, Westfahl has included it in his thick guide — one that sci-fi cinemas fans didn't know they needed until now.
Westfahl doesn't settle for the mainstream, either, like the obvious 2001: A SPACE ODYSSEY, although that Stanley Kubrick landmark is there, of course. He includes lots of B movies and even Z-level ones. Surprisingly, the 1953 3-D turkey CAT-WOMEN OF THE MOON is the movie that he calls the most influential (read the book to find out why). Even Doris Wishman's notorious NUDE ON THE MOON from 1961 is here, although dubbed "pornographic," which is misleading for the topless nudie-cutie flick.
The author's grasp also extends to the small screen, with THREE STOOGES shorts, select episodes of I DREAM OF JEANNIE and the televised Apollo 11 moon landing of 1969.
Westfahl's entries for each are thoughtful, not settling for the lazy approach of just rehashing plot synopses. The paperback could use more photos, although so many of the ones that are here look interchangeable (exception: 2001, Don Knotts as THE RELUCTANT ASTRONAUT). As Westfahl explains, that's exactly why Hollywood resists sticking to scientific accuracy when designing the spacesuit for movies: They want you to see their highly paid stars' pretty faces, dammit! —Rod Lott