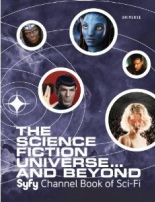 If your coffee table is going to display a book on science-fiction movies and television, it may as well be branded with the one cable channel responsible for airing much of it. That book is Michael Mallory's THE SCIENCE FICTION UNIVERSE … AND BEYOND: SYFY CHANNEL BOOK OF SCI-FI. (While the title contains no fewer than three ways to say and/or spell the genre, it could stand to drop the "…AND BEYOND" part.)
Being issued in hardcover by (appropriately enough) Universe Publishing, the book is up to the publisher's usual high standards of scope and design (here, courtesy Chris McDonnell). Each page, heavy in weight, pops with pleasing visuals and full-color photographs and poster art — unless, of course, the source material was black-and-white.
That's the case in the first chapter, which begins with the dawn of cinema; from there, the text progresses more or less chronologically, focusing on groundbreaking touchstones of culture, such as PLANET OF THE APES, STAR WARS and THE TWILIGHT ZONE.
While no overview can be complete, Mallory hits all the expected bases, yet doesn't overlook more minor works, either, such as SILENT RUNNING. Television gets equal time, too; to this work, the long-running CBS series THE INCREDIBLE HULK is every bit as relevant as, say, Fritz Lang's silent masterpiece METROPOLIS. I'd agree, no matter what Grandpa might say to that.
In the foreword, Syfy programming VP Thomas P. Vitale proactively addresses the book's deficiency, in that what is — and what is not — science fiction is a judgment call. Thus, you won't FRANKENSTEIN covered … but you will the channel's own series of questionable value, like EUREKA and ALPHAS.
Quibble all you want over such instances — I'll be right there with you — but there's no denying the book is a joy to flip through, to gaze at, to revisit. —Rod Lott