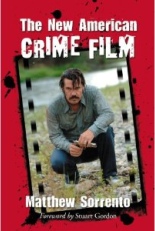 I've long thought this, but it's nice to have someone as esteemed as Stuart Gordon back you up: "Crime films are good for you."
So writes the RE-ANIMATOR director in his foreword to THE NEW AMERICAN CRIME FILM, in which New Jersey-based film teacher Matthew Sorrento explores what he calls the most widespread genre in cinema today. His 19 chapters focusing on slightly more movies are not reviews, but carefully thought-out, well-crafted essays that examine contemporary film through constant, consistent comparisons to other films. The result is as readable as it is informed.
As the 222-page paperback's cover suggests, the Coen brothers get their due, as do Clint Eastwood, and Davids Lynch and Fincher. But the author also discusses many unexpected surprises — who among us, whether in casual conservation or at gunpoint, would ever associate Richard Linklater's FAST FOOD NATION, Richard Eyre's NOTES ON A SCANDAL or Gus Van Sant's ELEPHANT as belonging to the crime genre? Sorrento does, and states his case; his angles are drawn so precisely, it's tough to disagree.
And while I didn't expect to see Sam Raimi's A SIMPLE PLAN, Werner Herzog's BAD LIEUTENANT: PORT OF CALL NEW ORLEANS or the more recent works of David Cronenberg included (all criminally underseen, I might add), they are, which further speaks to the books' breadth.
THE NEW AMERICAN CRIME FILM is recommended to movie buffs who not only seek intelligence in their choices of viewing, but in the works they read about said choices, too. —Rod Lott