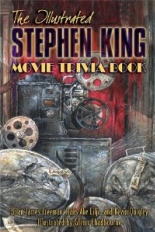 With Cemetery Dance's THE ILLUSTRATED STEPHEN KING MOVIE TRIVIA BOOK, I did something I haven't done in decades: Took a pen to it. Why not? It's essentially a 442-page quiz, after all. It was fun to do, even if I probably barely earned a passing grade.
Arranged chronologically, the book by Brian James Freeman, Hans-Åke Lilja and Kevin Quigley offers around 15 to 20 questions per film or TV adaptation — all multiple-choice except one fill-in-the-blank. The latter is accompanied by an original illustration from Glenn Chadbourne, who does the predictable awesome job of capturing the flick in one concrete drawing.
It is important to note that often, the authors' idea of trivia differs greatly than what you might find in pub competitions or Trivial Pursuit cards. For example, I'd expect the CREEPSHOW 2 chapter to ask something like, "What Western hero is the fat guy watching on TV before he's killed by Chief Wood'nhead?" Or, with MAXIMUM OVERDRIVE, "Which future wife of Donald Trump was smashed by a watermelon in the opening?" (For the record, The Cisco Kid and Marla Maples, respectively.)
Instead, it is heavy on detail, like names of secondary characters or colors of things, such as this question regarding APT PUPIL: "The number on Todd's Varsity jacket is the same year director Bryan Singer graduated high school. What number is it?"
Because of this, I didn't do so hot on the films I've seen the most, up to a dozen viewings and as recently as two years ago. And that's fine, as long you know going in that you're to be tested not so much on what was going on than you are on what wasn't going on: the in-the-background or throwaway info.
Less forgivable is the rare question that veers completely from this straight-laced approach (one for GRAVEYARD SHIFT is so goofy, it's a gimme), or more prevalent, the overwritten one. Consider this entry for IT and see if you agree all but the last sentence should have been nixed:
"After IT, Seth Green (who plays Richie Tozier) went on to play a character known as 'Wolfman,' on the television series SEAQUEST DSV, starring Jonathan Brandis (aka Bill Denbrough). Still later, Green played the character Oz — a werewolf — on the show BUFFY THE VAMPIRE SLAYER. In IT, Richie is menaced by a werewolf in the school basement after seeing which classic werewolf movie?"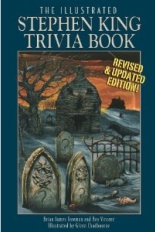 Being released in conjunction by Cemetery Dance is a revised and updated version of Freeman and Bev Vincent's THE ILLUSTRATED STEPHEN KING TRIVIA BOOK, also sporting Chadbourne's art. It adds 100 new questions and goes up to THE WIND THROUGH THE KEYHOLE, which came out this year. Whereas I've seen most King flicks more than once, there's not a single King book I've re-read outside of the short-story collections. Therefore, I have yet to road-test this quiz with utensil at the ready and arcane memory to be purged.
It's worth noting, however, that unlike the MOVIE TRIVIA BOOK, this 480-pager is not separated by each work. No matter what book it came from, the questions are all mixed up, and characters are not tied to titles, so if you're not good with names … boy, are you fucked.
Certainly, for hardcore King fans, that's an integral part of the fun. —Rod Lott
Buy them at Amazon or Cemetery Dance.