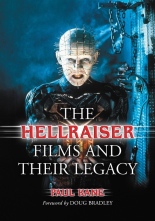 Recently I read Stefan Jaworzyn's THE TEXAS CHAIN SAW MASSACRE COMPANION, which sets out to cover the entire franchise (up to its 2004 publication date, at least), yet does it in a way that's lazy, shoddy and unfriendly to the reader. By contrast, Paul Kane's THE HELLRAISER FILMS AND THEIR LEGACY shows how a retrospective on a horror-film franchise — or on any genre, really — should be done. It's not difficult.
Jaworzyn's book is not new, and neither is Kane's, but the latter is now available in a reprint — and in a much more affordable paperback edition, at that — from McFarland & Company. Needless to say, any HELLRAISER fan worth his or her satanic salt should own it.
Benefitting from a wealth of interviews, Kane recounts Clive Barker's creation of the world of the Cenobites in THE HELLBOUND HEART and his aim to bring it to the big screen himself, having been less-than-enthused about what filmmakers had done with adapting his work prior (see: TRANSMUTATIONS or RAWHEAD REX — or don't, as Barker would prefer).
We now know he succeeded, but in real life, conclusions aren't so foregone. Turns out, there's a real story to be told of the 1987 hit's making, including battles over the budget and its rating. Hollywood's response was not to give Barker creative freedom on his next project … but to offer him ALIEN 3.
Kane could've stopped there, but instead continues giving the same thorough, behind-the-scenes treatment for each and every sequel (except 2011′s HELLRAISER: REVELATIONS, made after the book's original 2006 publication), whether released theatrically or straight to home video. Among them, the greatest tale of production belongs to the tortured one of the series' fourth, 1996′s HELLRAISER: BLOODLINES, the one that sent Pinhead into space and took three directors to complete, if you count the infamous Alan Smithee disowning pseudonym to whom it's credited.
Smartly avoiding start-to-finish, beat-for-beat synopses, Kane instead follows each film's story of conception with an exploration into the themes it presents and probes. Luckily, the author does a damn good job of it. Rounding out the book is a brief look at HELLRAISER's entry into other media, most notably comics.
Jesus wept … for joy! —Rod Lott