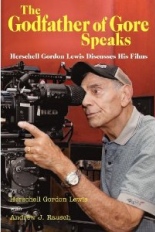 I'll make this simple: If you are at all a fan of filmmaker Herschell Gordon Lewis, I want you to do two things:
1. Read an interview I did with him 2011. I don't like to brag, but it wasn't voted the year's best entertainment feature in the state for nothing.
2. Buy Bear Manor Media's new book THE GODFATHER OF GORE SPEAKS.
It's credited to Lewis himself and Andrew J. Rausch, but it reads as if Lewis were speaking right to you, as I'm guessing he did with Rasuch, and Rausch just had to transcribe it all. That's not meant as a criticism. Far from it.
Because no one tells tales quite like Lewis — both in and about his movies — and unless you have the honor to have a one-on-one conversation with the man, this is as close as you're apt to get.
For the book, Lewis — heavily armed with his self-depreciation, cutting wit and friendly honesty — runs through every single one of his films chronologically, from early success with nudie cuties to his groundbreaking splatter flicks (starting with BLOOD FEAST), and up to his most recent effort (2009's massively entertaining THE UH-OH SHOW!). It's not, thankfully, about dishing out plot summaries, but all the problems behind the scenes, the controversies upon their release, and the victories at the box office.
You may have heard some of the stories before, especially if you've seen Frank Henenlotter's excellent feature documentary from 2011, but they're a drop in the bucket. Rausch scores bonus points for allowing Lewis to set the record straight on a number of films incorrectly credited to him, such as THE MAGIC LAND OF MOTHER GOOSE; Lewis tells to what extent he was involved.
I have only two complaints about THE GODFATHER OF GORE SPEAKS, which comes illustrated with vintage poster art and stills from most of the films:
1. Rausch offers a brief intro before they move on to the next movie, and too often, he includes facts that Lewis eventually tells anyway, and in a much livelier manner at that.
2. It's too short! At 142 pages, the paperback is by no means a rip-off; it's just that I could've "listened to" Lewis go on and on for double the page count. He's a born storyteller, and I zoomed through the book in a single sitting.
But I can live with that. After all, it allows me more time to revisit his work and/or catch up with the ones I've missed, like the trio of sexploitation obscurities collected on the new LOST FILMS box set. You'll definitely want to, so be prepared. —Rod Lott