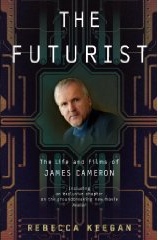 It's ironic that a guy who got his start in filmmaking working for penny-pinching producer Roger Corman has gone on to make the most expensive movies of all time. Then again, nothing about James Cameron's life is conventional, as you'll witness several times over in his warts-and-all biography, penned by TIME journalist Rebecca Keegan.
Lucky for her — and us — Cameron allowed himself to be interviewed, as did family, friends and frenemies, making THE FUTURIST: THE LIFE AND FILMS OF JAMES CAMERON as likely a complete portrait as we're going to get. Like most of his movies, it's exciting, fascinating and difficult not to consume in a single sitting.
We always knew he was intelligent and driven; seeing exactly how he got to the A-list is where the surprises lie. Even when he was in no position to gamble, he'd bet it all and win. For instance, ALIENS happened because he called an agent's bluff. Jamie Lee Curtis was only in TRUE LIES because Cameron stood up to Arnold Schwarzenegger, who didn't want her in the movie. And he only was given an opportunity to make his directorial debut with PIRANHA II: THE SPAWNING because … well, the less said about that flick, the better (although Keegan sure gets a terrific behind-the-scenes story out of it).
And THE FUTURIST is full of those. I'd heard of the TITANIC gang being felled by LSD-laced chowder, but not to the point where they were so delusional that an assistant director stabbed Cameron in the face with a pencil. In scouting the actual wreck for that film in a Russian sub, Cameron and crew ran out of power and were trapped on the ocean floor, with each attempt to rise being quashed by heavy currents. And even though he obviously survived, I was glued to my seat reading about his similar near-death experience during THE ABYSS, when he ran out of oxygen and could not surface in time.
His film shoots are the very definition of tumultuous, but that's because he pushes the envelope in what can be achieved. Entire movies couldn't be shot underwater, so he did it. CGI characters couldn't move and morph convincingly, so he helped make that happen. Even if you hate his work (and, hey, what's wrong with you?), you have to give him credit for changing cinema. How many other directors have designed a piece of space equipment that NASA actually utilized part of?
And how many other directors remain friends with four ex-wives? For all his genius, Cameron is painted as a difficult person to live with, much less work with. Keegan's interviewees are unafraid to call Cameron out on his asshole behavior of the past, and even he cops to some of it. Too bad Ed Harris wasn't among those who talked, however; I distinctly remember a PREMIERE magazine piece about THE ABYSS in which he was so soured by the experience of working with Cameron that he violently vowed never to speak about it.
The book is arranged as it should be: chronological, with each chapter devoted to extensive coverage of a single film, concluding with the upcoming, much-hyped AVATAR. Although THE FUTURIST, over and over again, made me excited to rewatch Cameron's filmography, I can't muster any enthusiasm over this reportedly groundbreaking — mostly per Cameron, it should be noted — CGI sci-fi adventure. If it turns out to be great, I'll be first to admit it, but its uncertain reception gives Keegan an opportunity to end her bio with a whiff of mystery; this may be the one time Cameron's roll of the dice will come up snake eyes.
Keegan makes a point to include his forays into projects that fall between his blockbuster directorial gigs, such as the seemingly endless oceanic documentaries, the double-season DARK ANGEL TV series, producing POINT BREAK, and scripting efforts on RAMBO: FIRST BLOOD PART II and STRANGE DAYS. I believe the only project she fails to touch upon is his involvement in Steven Soderbergh's underrated SOLARIS remake.
Both as a peek behind the scenes of the modern filmmaking process and as a non-gossipy work of Hollywood journalism, THE FUTURIST enthralls. The facile account of a complicated man comes highly recommended. —Rod Lott