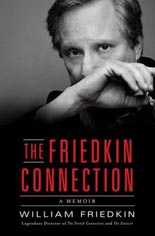 Humility is hardly an attribute that comes to mind when considering director William Friedkin, by all accounts a talented man who let success go to his head in the worst way. Refreshingly, he's the first to admit it — and all his other faults — in THE FRIEDKIN CONNECTION, a dumb title for a smart memoir.
Having been born the year of THE FRENCH CONNECTION and all of 2 when he followed up that Oscar win with THE EXORCIST, I was oblivious to how meteoric his rise was. He had made only four films prior to FRENCH, beginning with the Sonny & Cher vehicle GOOD TIMES, none of them hits.
In this book, Friedkin fills in all those blanks. It is more an autobiography of Friedkin the moviemaker vs. Friedkin the man. Personal details from childhood on up are kept to a minimum, relayed to the reader seemingly only when they directly influenced his work. As someone who tires of celeb bios that assume the reader wants to know every flipping twig on the family tree, I welcomed the brevity.
After all, I came to THE FRIEDKIN CONNECTION wanting to learn about the movies he's made, not the sordid details of failed relationships, and that's why it's a winner. He ticks through them all with candor and regret, from his big-budget, post-EXORCIST failures of SORCERER and the controversial CRUISING to his underseen creative comeback of 1985's TO LIVE AND DIE IN L.A. and up to last year's wonderfully crazed KILLER JOE.
But it ignores — as in, never even mentions — 1983's DEAL OF THE CENTURY or 1990's THE GUARDIAN. I refuse to believe he didn't have good stories to share with those projects, especially since the former starred legendary asshole Chevy Chase. It's weird that his one episode of the mid-'80s TWILIGHT ZONE revival merits discussion, but these two films have been erased. —Rod Lott