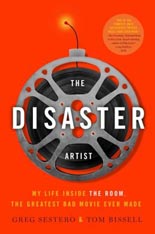 I wish I could say I've been eagerly waiting the release of Greg Sestero's THE DISASTER ARTIST since he mentioned it on a 2011 episode of the HOW DID THIS GET MADE? podcast, but really, I've been eagerly waiting it longer than that — in fact, mere minutes after I saw 2003's THE ROOM, this millennium's arguably strongest candidate for Best Worst Movie.
Someone, I reasoned, just had to write a book to answer all my questions surrounding such a misbegotten production, not the least of which was simply, "What the hell?"
Sestero does not disappoint. As one point of THE ROOM's wretched love triangle and inadvertent line producer, the actor had a front-row seat not just to the chaos of shooting of the $6 million vanity project, but the chaos that was (is?) the life of Tommy Wiseau, "mastermind" of the movie. Years before THE ROOM said, "Oh, hi" to an unsuspecting world, Sestero was a friend and roommate of Wiseau.
The author's recollections (undoubtedly goosed by DISASTER co-writer Tom Bissell) are hysterical from the start. On page 2, I was already laughing out loud at Sestero's descriptions of the … how you say, "unique" look of Wiseau: "Gene Simmons after three months in the Gobi Desert? The Hunchback of Notre Dame following corrective surgery? An escaped Muppet? The drummer from Ratt?"
A terrific sense of humor is the book's greatest asset. Unlike THE ROOM, the laughs are intentional. Laughter was something every poor soul who had the unfortunate experience of working on the picture struggled to stifle — everyone, of course, except Wiseau, who failed to see his acting/screenwriting/directing/producing debut as anything but life-altering brilliance.
So delusional is Wiseau that he paid for THE ROOM to play a theatrical run (to empty houses, no less) for two whole weeks, because that time frame is required to qualify for Academy Awards consideration. That's merely one baffling decision of a thousand that Wiseau makes over the course of THE DISASTER ARTIST's pages. God bless Sestero for taking mental notes the whole time.
So harsh is he on Wiseau at times ("The only casting directors who'd be willing to call Tommy in on the basis of this headshot were the ones curious about what it was like to be murdered") that I wonder if their friendship experienced a fatal falling-out after the film's premiere. If so, it goes unaddressed, but that's about the only thing readers will be left wanting to know. Sestero even sheds light on the enigmatic Wiseau's past, to disturbing detail.
All of this might come off as an exercise in petty cruelty, if not for two things:
1. Sestero is quick to point out his own shortcomings, i.e. "It's pretty obvious that I mailed in my performance throughout the entire production, but during this scene I didn't even bother to lick the envelope."
2. THE ROOM deserves it. Anyone who's seen it, knows it, and anyone who's seen it needs to read this book on its making. Apologies to the word "making." —Rod Lott