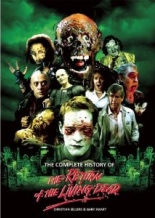 "More brains" is one of the more memorable lines in writer/director Dan O'Bannon's 1985 cult classic THE RETURN OF THE LIVING DEAD, and that's exactly what their book could use.
In THE COMPLETE HISTORY OF THE RETURN OF THE LIVING DEAD, Christian Sellers and Gary Smart provide a comprehensive overview of the entire franchise, which currently numbers five. That the last two sequels aren't worth viewing raises the question whether they're worth discussing, too — and they are, but certainly not at this depth.
In general, the book is structured as an oral history, which means that Sellers and Smart don't have to write much on their own; instead, they let the quotes do the talking, but all too often, those quotes are just too long, too repetitive or fail to yield anything interesting. A number of principals in the various entries have their say, including James Karen, Don Calfa, Linnea Quigley, Jewel Shepard, Clu Gulager, Brian Yuzna and Ken Weiderhorn (who's "a tool," according to Thom Matthews).
Although there are a ton of color photos throughout, it's all laid out in an amateurish, unimaginative design, using headline fonts that went out of vogue a good 25 years ago. The entire affair resembles an article from a magazine — or a film zine, more likely — where all the effort went into research, and next to none in presentation. HISTORY is a major disappointment, to say the least. —Rod Lott