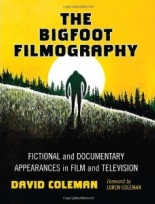 I wish THE BIGFOOT FILMOGRAPHY were as compelling as the amateur home-video footage that made the cryptid such a pop-culture phenomenon. David Coleman certainly has the passion for the project — and at first glance and a hold in your hands, the book's thickness and heft promises a lot — but the end result is less than enthralling. Kinda like so many of the movies it catalogues.
Arranged in alphabetical order, the paperback gives ink across all genres, from drive-in efforts like SNOWBEAST to Hammer's THE ABOMINABLE SNOWMAN and greasy kids' stuff like HARRY AND THE HENDERSONS, as well as TV appearances like the epic bionic showdown with THE SIX MILLION DOLLAR MAN.
But when you're including hot dog commercials and their ilk, does the word "filmography" even apply anymore? For the exhaustive obsessives, the answer certainly would be "yes," but then, why so many obvious missing entries? While flipping through looking for them, several popped up in my head: Where is the MYSTERY SCIENCE THEATER 3000 episode that skewers BOGGY CREEK II? Spider-Man's tussle on THE ELECTRIC COMPANY with the yeti who sat on sno-cones?
The many photos are appreciated, but the grave factual errors — not typos — are not. For example, Coleman insists on referring to THE MUMMY: TOMB OF THE DRAGON EMPEROR as THE MUMMY 3, even filing the film as such. At no point after filming was the 2008 sequel even given that simplistic numeric moniker.
I also enjoyed background on the films' making, when included; obviously and understandably, some get more exposure than others. Interviews with a select few Bigfoot filmmakers in the appendix go a long way in offering information one can't find anywhere else.
But the same cannot be said for beat-by-beat, top-to-bottom plot descriptions. Those annoy me to no end. At least skipping them allows the reader to move through the pages to get to the real meat faster. —Rod Lott