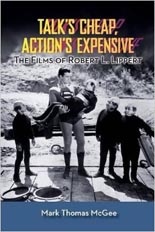 I'm guessing if film buffs know the name Robert L. Lippert, it's through LOST CONTINENT and ROCKETSHIP X-M, the cheap science-fiction pictures of his that appeared on — and, thus, were skewered by — the TV series MYSTERY SCIENCE THEATER 3000.
There's more to the late producer than dreck, of course, which is why Mark Thomas McGee stands up to give the guy his due in a biography, TALK'S CHEAP, ACTION'S EXPENSIVE: THE FILMS OF ROBERT L. LIPPERT. As with McGee's recent book on 1950 B-cinema, YOU WON'T BELIEVE YOUR EYES, it's published by Bear Manor Media.
A thrifty but formidable presence in Hollywood, Lippert is responsible for bringing THE FLY to the screen and giving a director named Sam Fuller a couple of shots. Off-screen, Lippert was a mess, womanizing (he claims to have slept with Marilyn Monroe) and feuding with the Screen Actors Guild. McGee gets some candid quotes from Lippert's son, who admits, "My father was a son of a bitch to work for."
It's important to note what this book is and is not. The chronological narrative of Lippert's life is contained to 82 pages. The remaining 200 or so work as an index to his films, all illustrated with movie photos and poster art. The one thing missing, though? Pictures of Lippert himself. Even with all McGee's facts and anecdotes, it's tough to get a true take on the guy when he goes unseen. —Rod Lott
Buy it at Amazon or Bear Manor Media.