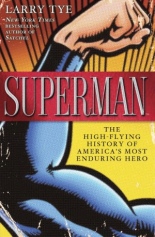 A mere 13 pages of the 64 pages of ACTION COMICS #1 introduced a new hero by the name of the Superman, but as Larry Tye writes, "those are the only pages the world remembers." And for good reason.
Award-winning journalist Larry Tye tells why and examines why, all while recounting the character's entire multimedia history in SUPERMAN: THE HIGH-FLYING HISTORY OF AMERICA'S MOST ENDURING HERO. It's a must-read for one who spent days of his or her childhood with a blanket tied around his or her neck in lieu of a cape.
Tye's nonfiction book is more than just the story of how the man of steel came to be and how he continues to exercise his might over pop culture, particularly as an American icon. It's also as much a story of Jerry Siegel and Joe Shuster, two poor Jewish boys who collaborated in comics to rise out of their lives of underdog misery, and struck gold, only to return to those lives of underdog misery by being shtupped out of royalties.
It's a sad story, fraught not just with corporate battles, but ones of health, marriage and creativity, as they fought (and lost) to create another comic-book star of any resonance with their public. What separates Tye's work from other histories of the character is in exploring how the Jewish beliefs and practices of Siegel and Shuster (I will forever confuse their names, even after this book, as some things are impossible even for a superhero) manifested themselves so strongly into Supes.
For me, the meat of SUPERMAN: THE HIGH-FLYING HISTORY can be found in the chapters that deal with his adventures into screens big and small. However, I still feel that Jake Rossen told the definitive story of that one aspect with his excellent 2008 book, SUPERMAN VS. HOLLYWOOD. —Rod Lott