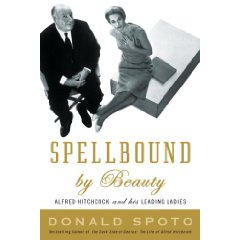 Director Alfred Hitchcock had a knack for picking projects — a remarkable streak of luck that did not extend to real life, particularly with the opposite sex. The master filmmaker's uneasy relationships with the women he employed is examined in unexpected detail, film by film, in Donald Spoto's SPELLBOUND BY BEAUTY: ALFRED HITCHCOCK AND HIS LEADING LADIES.
This is, of course, not Spoto's first foray into Hitchcock biography, but his third. While those earlier efforts delved into the art of his films and the history of their creator, this work charges itself with concentrating specifically on its title theme. Don't dismiss it as a rehash of prior bios. For instance, the famed story of Hitch presenting Melanie Griffith with a toy doll of mom Tippi Hedren in a coffin? Nowhere to be found.
It seems impossible to believe, but when Hitch was shooting his first feature in his 20s — and in the 1920s — women were such a mystery to him that when an actress announced she couldn't get in the water for a scene because she was on her period, he claimed not to know what she meant. His naïveté changed little from there; although he married wife Alma in 1926, they failed to consummate the union until a full year later, and only then to get pregnant with their lone child.
Hitch claimed to have had sex with his wife this one and only time, but later there were rumors of a mistress in assistant Joan Harrison. It's likely that with Alma being more like a sibling than a lover to Hitch, their sexual dry spell lasted decades. Thus, Hitch was sexually frustrated, and vented his aggravation on his actresses via belittling comments, lewd jokes, acts of filmed torture, refusal to acknowledge their presence and/or, in later years, outright obsession and harassment.
Three ladies bore the brunt of it, in different ways: Ingrid Bergman, Grace Kelly and finally Hedren. By all accounts, Hitch was so in love with Bergman that he even listened to her opinions — something he never did with other actors, whom he famously branded "like cattle." He even floated a story that she had begged him to make love to her, refusing to leave his bedroom until doing so. Not likely, but what's indisputable is how betrayed he felt when she left him — meaning their collaborative relationship, rather than a personal one —  for another director, Roberto Rossellini.
With the elegant Kelly, it was more of the same. And when the REAR WINDOW star left Hollywood for the Prince of Monaco, Hitch again felt as if a divorce had once again taken place. So when he handpicked the unknown Hedren to headline THE BIRDS, he was determined to keep her to himself, keeping her segregated from the rest of cast and crew when the cameras weren't rolling. At one point, he makes a shocking demand of her that I won't reveal here, which changes their relationship — and, Spoto argues, Hitch's very being — forever.
This is not a sordid hatchet job on a cinematic icon. Spoto still reveres the artist, as he notes in the introduction, but now chooses to spill some secrets he had agreed to keep quiet while some of the sure-to-be-embarrassed principals were alive. There are quite a many uneasy and uncomfortable moments, such as Tallulah Bankhead's penchant for not wearing underwear and exposing herself on the set of LIFEBOAT, which, quips Hitch, is perhaps a matter "for hairdressing."
Those looking for lurid, between-the-sheets details aren't going to find any, primarily because its subject appears not to have had any kind of life in them. This fair treatment extends to other people as well, as VERTIGO's Kim Novak is mentioned as being "carnal," yet Spoto gives no details as to why and what degree.
But SPELLBOUND is not a book about sex, nor is it intended to be. Rather, it is a book about sexual obsession — a theme that, especially in hindsight, permeated a great many of Hitchcock's films. From harboring a glasses fetish to fantasies of strangulation, the director was not without his kinks and quirks, and now that they've presumably all come to life, one has to wonder how different his career — and film history itself — might have been if he hadn't been so passionate … or greatly wishing to be. —Rod Lott