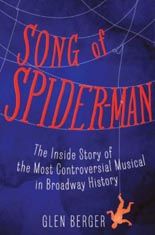 When all the behind-the-scenes drama surrounding the yet-to-open Broadway musical SPIDER-MAN: TURN OFF THE DARK was being reported by the mass media, I thought, "That's going to make a helluva book someday."
Someday has arrived with SONG OF SPIDER-MAN, penned by none other than the play's scriptwriter, Glen Berger. He packs six years worth of unbearable turmoil into 384 vastly readable pages. The result should be required reading for not only theater majors, but business majors in colleges nationwide.
When TURN OFF THE DARK was announced, it seemed like a slam dunk. Not only was it based on Marvel Comics' signature character, coming off a couple of smash-hit movies, but the piece was to be directed by theater genius Julie Taymor, with music from U2′s Bono and The Edge.
Somewhere along the way, however (read: everywhere along the way), shit happened, and the $25 million budget ballooned to $65 million. Having producer Tony Adams die as contracts were being signed should've been taken as a capital-O omen.
It wasn't.
Instead, the show must go on, as the adage has it. Unfortunately, the show had 20 songs that hadn't been written with one month left, the leads exhibited zero chemistry, the piece had no real ending, the elaborate effects often didn't work, scene fixes sometime resembled "Japanese hentai monster porn," and Taymor — hardly the person one thinks of when you think "comic-book icon" — made awkward creative decisions that raised many questions.
"These were good questions," Berger writes. "We didn't ask them."
The creative team's outcast by virtue the broke one among all these multimillionaires, Berger points fingers. That he often is on the receiving end, too, gives his account major credibility. He admits his part in things that went wrong, and doesn't rub others' faces in the mess with which he had nothing to do.
SONG OF SPIDER-MAN is an eye-opener, even for those who followed the press closely. His insider view is unfiltered, and the clash of egos and personalities detailed is why I recommend it to those about the industry, or any industry. The working world is generally not nice, kids; here's what you can expect. —Rod Lott