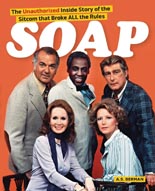 You won't find this skill listed on my résumé, but three decades after catching the entire TV series via syndicated reruns, I still can recite the opening narration to SOAP. I was such a geek for it — and, let it be said, a geek in general — that I wanted a T-shirt with the show's logo. God, no wonder I was bullied.
But enough "woe is me." SOAP: THE UNAUTHORIZED INSIDE STORY OF THE SITCOM THAT BROKE ALL THE RULES is the book that I've wanted to have since consuming all four seasons of the ABC soap-opera parody. It comes to us from Bear Manor Media, which also published author A.S. Berman's criminally under-read THE NEW HORROR HANDBOOK.
Anyone who saw that 2009 title can expect the same here from Berman (but with 100 percent more Robert Guillaume):
• a deep passion for his subject without seeping into blind, fanboy gushing;
• meticulous research that yields a wealth of information;
• insightful interviews with key players (although, sadly, many no longer are among the living); and
• sharp graphic design that streamlines readability while making a visual punch with Internet appeal.
The trade paperback's biggest benefit to SOAP fans will be either the detailed episode guide or the perspectives offered by cast and crew. For me, who was too young to be cognizant of the show's original run beginning in 1977, learning the ins and outs of the controversy surrounding the sitcom — before it even aired, mind you — was the key selling point. —Rod Lott
Buy it at Amazon or Bear Manor Media.