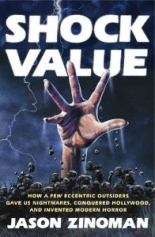 Ever since I read Jason Zinoman's VANITY FAIR article three years ago about the horror-film revolution of the 1970s and learned it was to be expanded into a full book, I eagerly awaited the result. Now it's here, as SHOCK VALUE: HOW A FEW ECCENTRIC OUTSIDERS GAVE US NIGHTMARES, CONQUERED HOLLYWOOD, AND INVENTED MODERN HORROR, and it did not disappoint.
This is not a history of a decade in horror, but a true narrative of how a few select films broke rules — some completely by accident — and ended up changing the face of the genre. Without intending to, the filmmakers dragged horror from its standing a hair above pornography to something lauded by AMPAS. Most of them were just out to make an honest buck.
Through personal interviews and other sources, Zinoman weaves an utterly addictive tale of how the oft-guerilla making of these movies hit the cultural landscape so hard, their impact is still felt today. Wes Craven's lack of proper equipment gave THE LAST HOUSE ON THE LEFT a documentary feel that was hard to shake, announcing that this was as far from Vincent Price and Roger Corman as one could get.
But ever more disturbing, perhaps, was its moral ambiguity — a theme that resonated strongly through Roman Polanski's ROSEMARY'S BABY and Brian De Palma's CARRIE. William Friedkin's THE EXORCIST crossed lines of taste and taboo to shock audiences, even if its creators insist in calling it a thriller, not horror. The miserable heat on the set of Tobe Hooper's THE TEXAS CHAIN SAW MASSACRE contributed to its dangerous feel more than anything in the script.
Thanks to DVD commentaries, fanzines and the like, it's likely that horror fans already have heard the behind-the-scenes stories of these movies. But Zinoman weaves them together in a true narrative in which A connects to B, and B begets C, and C influences D, and so on. With a cast of characters that includes a sour William Castle pushed away from the property he bought, and a perhaps crazy Dan O'Bannon, whose friendship with John Carpenter went kaput as soon as DARK STAR was over, and the latter went on to helm HALLOWEEN, which kick-started an entire new set of rules and copycats.
From the way it's introduced, Sean S. Cunningham's FRIDAY THE 13TH seems as if it, too, will get the same treatment as the other titles above, but it doesn't. It's glossed over as soon as it's mentioned, and Zinoman moves on. That's not a complaint, because the stories he chooses to tell in his overall tale are fascinating, and perhaps it didn't quite fit the way he wanted it to.
Okay, maybe it is a complaint, because if there's anything I found wrong with SHOCK VALUE, it's that I wanted it to be twice as long. By page 238, the narrative is all wrapped up with a twist … of a certain possessed girl's head. Oh, sure, there's closure and a logic, but when you're talking about one of my favorite subjects, the hook is still happily in my cheek. I wasn't ready for it to be removed, and for me to be thrown back into my world.
Yes, it's a must. The power of Christ compels you to buy this book! —Rod Lott